Trying to decide whether you should get a Galaxy Watch 4 or the Apple Watch Series 7 is a lot simpler decision than you might think. Both watches are designed for a very specific user that, frankly, comes down to one question: What kind of smartphone do you use?
We'll explain why that matters and more below.
At a glance
Apple Watch Series 7The best watch for Apple usersThe new Apple Watch Series 7
Get the Apple Watch Series 7 if you use an iPhone and want the largest selection of customizable bands to choose from.
$399 at Amazon$399 at AppleGalaxy Watch 4The best watch for Android users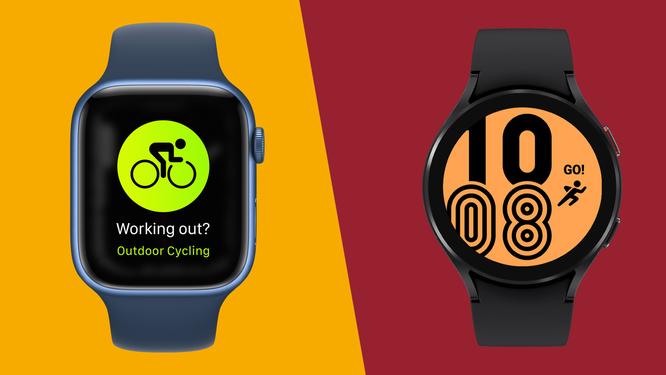 Get the Galaxy Watch 4 if you want the best Android watch, and want as many health sensors as possible.
$279
$249 at Amazon$249 at Samsung
You should get an Apple Watch Series 7 if…
The Apple Watch Series 7, like previous Apple Watch models, continues to only work with an iPhone. And, yes, you still need an iPhone to even set up the Series 7. The only exception to the iPhone rule for Apple Watch users is if you set up an Apple Watch for a family member, like a child. If someone you know is using a cellular Apple Watch, you're able to talk to them and view their location. Even then, that Apple Watch will have to be set up with an iPhone before it can be used.
A bigger screen is a must
The display on the Series 7 is the biggest screen Apple has ever used on an Apple Watch, with your choice of a 41mm or 45mm option. The Watch 4 and Watch 4 Classic are available in 40mm or 44mm sizes, with a circular display instead of the Apple Watch's square design. Both versions include a new full-size keyboard that you can use to reply to messages and emails or take advantage of the bigger screen real estate by using the new watch faces that have more space for large complications and more information.
Not only does Apple routinely release new Apple Watch bands, but there are countless third-party watch bands available for all Apple Watch models. Apple's own watch bands range in price from $50 up to $849 for a Hermès branded band. The Galaxy Watch 4 and Galaxy Watch 4 Classic have band options, but they're not nearly as prominent or easy to swap out as the Apple Watch.
You should get a Samsung Galaxy Watch 4 if…
Unlike previous Samsung wearables that worked with the iPhone and Android devices, the Galaxy Watch 4 is only compatible with Android phones. The Watch 4 and Watch 4 Classic are the first two smartwatches that use the Wear OS powered by Samsung, and part of that transition has meant dropping iPhone support.
Samsung's Galaxy Watch 4 has the same health sensors that the Apple Watch Series 7 has, plus the additional option of being able to read your body mass index and present that information to you on demand. It's a novel feature for a wearable device, though we aren't fully sold on it, considering that most scales calculate that same information for you already. But it's certainly a feature that sets the Galaxy Watch 4 apart from the competition.
Bottom line
The gist of the debate between buying an Apple Watch Series 7 or Samsung Galaxy Watch 4 starts and ends with what type of phone you use. If you own an iPhone, the Apple Watch is the best smartwatch you can get, without a doubt. If you use Android, you have many more options, but the Galaxy Watch 4 is the first to run a next-generation operating system that offers the best of Google's ecosystem of apps, and Samsung's wearable knowledge and performance. The combination of the two make up the best Android-based smartwatch we've seen to date.
However, when you start to look at which model of Apple Watch to get, or whether the Galaxy Watch 4 is better than an older WearOS watch, things aren't as clear-cut. You have plenty of options from Fitbit to Garmin, but we think that the Galaxy Watch 4 or Watch 4 Classic currently offer the best experience for Android.
Tags:
will apple watch bands fit galaxy watch