What are you going to be watching in December? With thanks to our friends at Nando's, we round up everything coming to streaming services this month, including Netflix, Amazon Prime, Disney+, Apple TV+, Neon and TVNZ OnDemand.
And Just Like That (weekly on Neon from December 10)
It's been a long time since we left Carrie, Miranda and Charlotte drinking Diet Coke in a tent in Abu Dhabi, but after years of waiting and wishing, the Sex and the City team (sans Kim Cattrell) are back. This new ten-episode reboot picks up as the New York friends navigate their way through their 50s, menopausal and middle-aged and still wearing incredible clothes. The reboot promises a far more diverse cast than the original, and since it's not often we get TV shows that centre smart and successful women in their mid-life – a time when many women report feeling invisible and ignored – this much-loved show deserves a warm welcome back./Tara Ward
The Witcher (season two on Netflix from December 17)
Before it was dethroned by Bridgerton and then Squid Game, The Witcher was the most watched series ever on Netflix. It was so huge that it led to the game it was based on, nearly five years old that at that point, shooting up the charts of the most streamed games on Twitch. Which is to say that the second season of Netflix's first big foray into fantasy is going to be a big deal. The first season played largely as an origin story for the found family of Geralt, Ciri and Yennefer, while this season will aim to get into the messy, dark and very fun lore of the world created by Polish author Andrzej Sapowski. / Sam Brooks
The Book of Boba Fett (weekly on Disney+ from December 29)
Star Wars nerds from the 80s, your prayers have been answered: Boba Fett is back. After the character's surprise appearance in the second season of The Mandalorian, it was only a matter of time before the bounty hunter of the original trilogy came back for his own show in the evermore sprawling Star Wars cinematic universe. The series follows Fett (New Zealand's own Temuera Morrison at his gruffest) and Fennec Shand (Ming Na-Wen) as they attempt to take control of the criminal underworld once controlled by Jabba the Hutt. Jennifer Beals also stars as a Twi'lek? Sure! / SB
Station Eleven (weekly on Neon from December 17)
What's your appetite for a post-pandemic survival story right now? If it's slim to none, after the past three months, no one would blame you. But you might want to reconsider, because Station Eleven has lots going for it. For starters, the 10-part mini-series is from HBO, which remains a mark of quality. The series is based on Emily St John Mandel's best-selling novel, about a global virus wiping out much of the population. And it's directed by Hiro Murai, best known for his Emmy-nominated work on the incredibly stylised Atlanta. I also just love the look of the trailer, which is full of beautifully shot weirdness. I'm in. / Chris Schulz
Harlem (on Amazon Prime Video from December 3)
I've been looking forward to this Tracy Oliver series for quite some time, so I'm stoked that it's finally dropping, in its entirety, just in time for Christmas. The series follows a group of stylish and ambitious Black girlfriends (played by Megan Good, Jerrie Johnson, Grace Byers, Shoniqua Shandai), who are at the centre of the cultural mecca that is New York City's Harlem district. If you want something to tide you over while you wait for And Just Like That…, Harlem's your best bet. And my guess is that it'll probably be the one you come away thinking about more. / SB
Shortland Street: Retribution (weekly on TVNZ on Demand from December 21)
The Shorty Street drama doesn't stop over summer, and this festive season Shortland Street: Retribution takes us on a special journey deep into the gritty underworld of…Christchurch. A pregnant Dr Esther Samuels celebrates the open border by popping down to the Garden City to surprise love of her life Curtis, only to find out he's up to his ears in dodgy affairs. Will Curtis and Esther finally get their happy ending, or will Christchurch keep them apart like two forlorn lovers stuck on opposite sides of the Avon? More importantly, will they get a chance to visit Orana Park and The Margaret Mahy Playground? Who knows, but keep an eye out for guest stars Tammy Davis (Outrageous Fortune), Turia Schmidt-Peke (Ahikāroa) and Pana Hema-Taylor (Westside)./TW
Emily in Paris (season two on Netflix from December 22)
Last year the world went wild for Darren Star's series about a naive American who moves to Paris, mostly because the frothy series was the perfect tonic to 2020's real life hellscape. Season two drops this month, and yet again, Emily in Paris will be a welcome dose of escapism. The tres chic Emily is transferred from Chicago to Paris, and despite many, many misunderstandings (she doesn't speak the language! French people are rude!), falls in love with the city. Cliches flow like cheap red wine here, so grab a beret and a garlic necklace and tuck in./TW
This Way Up (seasons one and two on Neon from December 20)
I absolutely adore Aisling Bea. The Irish comic's been around for a few years now, mainly in supporting roles (like that weird Paul Rudd series on Netflix) or stealing the screen on panel shows (her season of Taskmaster is probably the best). Finally, New Zealand audiences get to see her in a show of her very own: This Way Up, written by and starring Bea. I've been waiting years to see this show and I can't wait to enthusiastically binge both seasons as soon as they drop. / Stewart Sowman-Lund
Being the Ricardos (on Amazon Prime Video from December 21)
After playing a nervous wife in The Undoing and a Russian new-ager in Nine Perfect Strangers, Nicole Kidman extends her accent/wig limits in as she takes on the iconic role of Lucille Ball, star of beloved 1950s American sitcom I Love Lucy. Aaron Sorkin (Trial of the Chicago 7) writes and directs this biopic that takes place over one week in 1952, as Ball and her co-star husband Desi Arnez (Javier Bardem) navigate a crisis that could ruin both their public and private lives. Can Kidman do comedy, as well as good wigs? Only time will tell. / TW
The Power of the Dog (on Netflix from December 1)
By all accounts, Jane Campion's latest is an absolute winner. Shot against the stunning backdrop of Otago, the Netflix western has been getting rave reviews ever since it first premiered and heading into awards season that momentum shows no sign of slowing down. With an all-star cast, including Benedict Cumberbatch, Kirsten Dunst and our very own Thomasin McKenzie, this is one you absolutely have to watch this December – especially those in Auckland who missed its Film Festival premiere. / SS-L
Don't Look Up (on Netflix from December 24)
We've all become a bit blasé about Hollywood celebrities showing up on our streaming services, but even in this era of big stars and small screens, Don't Look Up stands out. Just look at this cast list: Leonardo DiCaprio, Jennifer Lawrence, Meryl Streep, Cate Blanchett, Timothée Chalamet… deep breath… Ariana Grande, Chris Evans, Jonah Hill, Melanie Lynskey and Mark Rylance. It sounds like the film is going to be worthy awards-bait, but Don't Look Up is actually a scabrously funny sci-fi parable about climate change, written and directed by Adam McKay (The Big Short, Vice). The premise? According to McKay, it all came from an offhand comment a friend made about our impending climate doom: "[He said] 'It's like the asteroid is going to hit Earth and no one cares.' And I was like, 'That's it! I'm going to write that." / Catherine McGregor
---
This post is made possible by our friends atNando's.
---
Netflix
December 1
Lost in Space: Season 3
The Power of the Dog
Kayko and Kokosh: Seasons 1-2
JoJo's Bizarre Adventure: STONE OCEAN
Secretary
Young Sheldon: Season 4
December 2
Coyotes
The Whole Truth
Single All The Way
December 3
La Casa de Papel (Money Heist): Part 5: Vol 2
Coming Out Colon
Cobalt Blue
Mixtape
Money Heist: From Tokyo to Berlin: Volume 2
Jurassic World Camp Cretaceous: Season 4
December 6
Our Beloved Summer
David and the Elves
Voir
December 7
Nicole Byer: BBW (Big Beautiful Weirdo)
Centaurworld: Season 2
Go Dog Go: Season 2
December 8
Titans: Season 3
Carolin Kebukus: The Last Christmas Special
December 9
Bonus Family: Season 4
Asakusa Kid
The Family That Sings Together: The Carmargos
December 10
Aranyak
Saturday Morning All Star Hits!
How To Ruin Christmas: The Funeral
Twentysomethings: Austin
Two
Anonymously Yours
Still Out Of My League
Back to the Outback
The Unforgiveable
December 11
The Hungry and the Hairy
December 14
The Future Diary
Russell Howard: Lubricant
StarBeam: Beaming in the New Year
December 15
Selling Tampa
Elite Short Stories: Philippe Caye Felipe
The Hand of God
December 16
A Naija Christmas
A California Christmas: City Lights
Puff: Wonders of the Reef
Aggretsuko: Season 4
December 17
The Witcher: Season 2
Fast and Furious Spy Racers: Season 6: Homecoming
December 18
Bulgasal: Immortal Souls
December 19
What Happened in Oslo
December 20
Elite Short Stories; Samuel Omar
December 21
Grumpy Christmas
Jim Gaffigan: Comedy Monster
December 22
Emily in Paris
December 23
Elite Short Stories: patrick
December 24
The Silent Sea
Vicky and Her Mystery
1000 Miles from Christmas
Don't Look Up
STAND BY ME Doraemon 2
Minnal Murali
December 25
Jimmy Carr: His Dark Material
Stories of a Generation with Pope Francis
December 26
Lulli
December 28
Word Party Presents: Math!
December 29
Anxious People
Crime Scene: The Times Square Killer
December 30
Kitz
Hilda and the Mountain King
December 31
Queer Eye: Season 6
Stay Close
Cobra Kai: Season 4
The Lost Daughter
Seal Team
Gossip Girl: Seasons 1-6
Neon
December 1
Tin Star: Liverpool
We Bare Bears: Season 2
Barbie and the Diamond Castle
Barbie and the Magic of Pegasus
Barbie and the Secret Door
Barbie and the Three Musketeers
Barbie as Rapunzel
Barbie as the Princess and the Pauper
Barbie Fairytopia: Magic of the Rainbow
Barbie Fairytopia: Mermadia
Barbie in a Christmas Carol
Barbie in The Nutcracker
Barbie of Swan Lake
Barbie Presents: Thumbelina
Barbie: A Fashion Fairytale
Barbie: The Pearl Princess
All I Want For Christmas
A Bramble House Christmas
The Case For Christmas
Christmas at the Movies
Christmas Bounty
Christmas Cupcakes
Christmas in Palm Springs
Christmas Lodge
Christmas Miracle
A Christmas Tail
Coming Home For Christmas
A Husband for Christmas
A Glenbroke Christmas
Loving Christmas
One Snowy Christmas
The Santa Squad
A Christmas Melody
Bad Santa
8-Bit Christmas
December 2
Law and Order: Organized Crime
Top Wing: Season 2B
The Wiggles: Big Ballet Day
The Wiggles: Dance, Dance
Unpregnant
Mapplethorpe
December 3
The Loud House: Season 4
Superintelligence
Monos
Once Were Brothers: Robbie Robertson and the Band
Two of Us
December 4
Unbreakable: Season 2
Penis5: Season 2B
Seberg
December 5
Archenemy
The Matrix
The Matrix Reloaded
The Matrix Revolutions
December 6
Dan Brown's The Lost Symbol
The Trip to Greece
Angel of Mine
December 7
Angelina Ballerina: Season 6
Dinosaur Train: Season 4
Octonauts: Seasons 3-4
Charm City Kings
Deerskin
December 8
Louis Theroux's Altered States: Take My Baby
Louis Theroux's Altered States: Love Without LImits
Louis Theroux's Altered States: Choosing Death
Hope Gap
December 9
First Dates: Seasons 1-5
All My Life
December 10
And Just Like That…
The Nest
December 11
Crisis
December 12
Nobody
December 13
NCIS: New Orleans Seasons 6-7
Land
December 14
Tyler Perry's Young Dylan
Rusty Ribets: Season 3
Let Them All Talk
December 15
Monster Beach
The Sex Lives of College Girls
Embattled
December 16
Avatar: The Last Airbender Season 1-3
Words on Bathroom Walls
December 17
Teen Mom Australia: Season 2
The Substitute
Station Eleven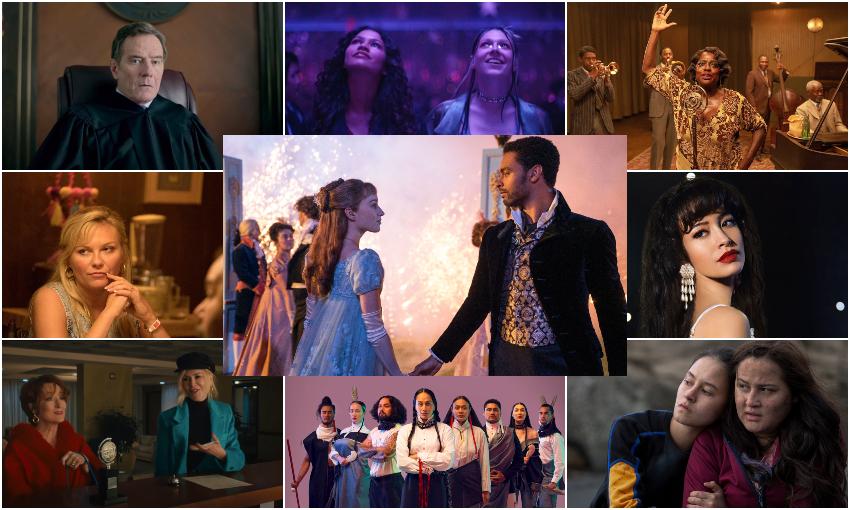 Military Wives
December 18
Young Rock: A Christmas Peril
Happiest Season
December 19
The Last Duel
Chaos Walking
December 20
This Way Up: Season 1-2
A Quiet Place Part II
December 21
The Wiggles: Furry Tales
The Wiggles: Nursery Rhymes: Seasons 1-2
The Wiggles: Rock & Roll Preschool
The Wiggles: Wiggle Pop
The Wiggles: Wiggle Time
2 Hearts
December 22
Half Brothers
December 23
Penguin Bloom
December 24
Geordie OGs: Season 3
Geordie Shore: Their Story
Music
December 25
Fatman
December 26
All That Glitters
Peter Rabbit 2: The Runaway
December 27
Wolfe
Godzilla Vs. Kong
December 28
Truck Files: A New Zealand Story
Demolition NZ: Seasons 1-2
Spirit Untamed
December 29
The Courier
December 30
The Goldbergs: Season 8
Fatale
December 31
Phoebe Robinson: Sorry, Harriet Tubman
Chelsea Handler: Evolution
Mo Willems: Don't Let The Pigeon Do Storytime
Ricky Velez: Here's Everything
Colin Quinn & Friends: A Parking Lot Comedy Show
Drew Michael: Red Blue Green
TVNZ on Demand
December 1
Eagleheart: Season 1-3
The Light on the Hill
The Soul of Flies
The Redeemed and the Dominant: Fittest on Earth
Peace Officer
Searching for Bill
Tomorrow's Power
Feliz NaviDAD
Snowed-Inn Christmas
Wrapped Up in Christmas
Last Chance for Christmas
Demolition NZ: Season 1
Trace
The Browns: Season 2
A Girl Like Me
Boy Boy Montreal: Season 1: part 3
Acasa, My Home
Mamacita
Older than Ireland
Camino Skies
December 2
The Teacher
December 4
Alex Rider
December 5
Heels
December 7
Hightown
December 9
Buried
December 10
Guilty Party
December 11
Aaron Hernandez Uncovered
Fantasy Island
Dahmer on Dahmer: A Serial Killer Speaks
December 15
Midnight, Texas
December 17
Macgruber
December 18
The Case of Caylee Anthony
Killer Cops
December 20
Claws
December 21
Shortland Street: Retribution
December 22
Unspeakable Crime: The Killing of Jessica Chambers
December 23
Housebroken
December 26
Bang
Rebecka Martinsson: Arctic Murders
December 27
Close to Me
Nirvana: Nevermind
Amy Winehouse: Back to Black
The Beach Boys: Pet Sounds
Fleetwood Mac: Rumours
Bob Marley: Catch a Fire
December 29
The Force: Manchester
Ross Kemp Behind Bars: Inside Barlinnie
Life Behind Bars: Visiting Hours
Disney+
December 3
Diary of a Wimpy Kid
Christmas… Again?!
Ernest Saves Christmas
Disney Holiday Magic Quest
Mickey and Minnie Wish Upon a Christmas
A Muppets Christmas: Letters to Santa
December 5
The First Wave
December 8
Welcome to Earth
The Last Duel
Big Sky: Season 2
The Hot Zone: Anthrax
Muppet Babies
The Choe Show
December 10
The Queen Family Singalong
December 15
Foodtastic
Our Kind of People
Black-ish: Season 3
Gigantosaurus: Season 3
Disney's Magic Bake off
December 17
Glass
Arendelle Castle Yule Log: Cut Paper Edition
December 22
The Con
Marvel's Runaways: Season 2
Sydney to the Max: Season 3
December 24
Mr and Mrs Smith
Fight Club
Alvin and the Chipmunks: Chipwrecked
Alvin and the Chipmunks: The Road Chip
Alvin and the Chipmunks: The Squeakquel
Gone Girl
Birdman (Or The Unexpected Virtue of Ignorance)
December 29
The Book of Boba Fett
December 31
The Rescue
Amazon Prime Video
December 1
Magic Mike
After Earth
Battleship
December 2
London Has Fallen
Chaos Walking
Gangstars
Carlos Ghosn: The Last Flight
The Equalizer
December 3
The Protege
Harlem
December 4
Voyagers
December 7
Silver Linings Playbook
December 9
Four Holidays
American Sniper
December 10
Encounter
The Expanse
December 14
The Lego Movie
December 15
Six Minutes to Midnight
Safe House
December 16
The Unholy
John Wick
December 17
Santa, Inc.
With Love
December 18
Fatale
The Courier
Bachchan Pandey
December 20
Je Te Veux Moi Non Plus
December 21
Being the Ricardos
December 22
Peter Rabbit 2: The Runaway
December 23
12 Strong
The Legend of Tarzan
Carrie
December 24
Curse of Chippendales
Yearly Departed
December 25
Final Account
Spirit Untamed
Sir Alex Ferguson: Never Give In
December 28
French Exit
December 30
Warrior
Day Zero
Memoirs of a Geisha
AppleTV+
December 17
Swan Song
Acorn TV
December 6
Endeavour: Season 8
The Syndicate: All or Nothing
Rectify: Season 2
December 13
Small Claims
Poldark: Season 1
December 20
Cracker
Republic of Doyle: Season 5
December 27
Candice Renoir: Season 3
Bancroft: Season 1-2
Shudder
December 1
Behind the Monsters
December 2
The Advent Calendar
December 3
Silent Night, Deadly Night
Silent Night, Deadly Night, Part 2
December 7
Screams of a Winter Night
Devil Times Five
December 9
Death Valley
December 14
What Lies Below
December 16
Deadly Games (aka 3615 Code Pere Noel, Dial Code Santa Claus)
December 21
Etheria: Season 2
Black Water
Tags:
comment regarder sky go sur smart tv