In 2007 I reviewed the Garmin Edge 205, which I dubbed "the Edge of perfection" at the time. Looking back it was certainly a pretty good GPS, but compared to today's units, well there is no comparison. Garmin has continued to refine, improve, and enhance the Edge line of cycling GPS units over the years and it shows in recent products like the Edge 530.
Garmin Edge 530 Jump Tracking
The Garmin Edge 530 mounts securely to a set of handlebars using the brand's tried-and-true, quarter-turn mounts. The latest models ship with stretchy bands in various sizes to fit most bar widths and I had no problem attaching the mount to my 35mm bars.
Obviously the Edge 530 tracks speed, distance, and climbing elevation, plus it packs a ton of useful navigation features. I'll get to most of that stuff later. first I want to talk about the unit's jump sensor. Garmin first introduced the feature in 2020, and at the time it sounded a little cheesy. After just my first ride with the feature, I was hooked. The unit can be configured to beep whenever the front end of the bike leaves the ground, and it seems to be pretty accurate with few if any false alarms. More importantly for me, it rarely misses any of my jump attempts, as feeble as they may be.
Back at home, there's a list of all the jumps, including hang time and distance to see which were your best. There's also a map of the ride with dots on the map representing the location of every jump so you can share it with your friends or plan out your ride for next time. It's a good time to be a mountain biker indeed.
Garmin Edge 530 MTB Data
Gerow mentioned a couple additional MTB-specific metrics Garmin collects in a recent review — Grit and Flow — that are included in the Edge 530. I've been spending some time analyzing these after my rides as well, and they seem to be helpful for both skills and fitness progression.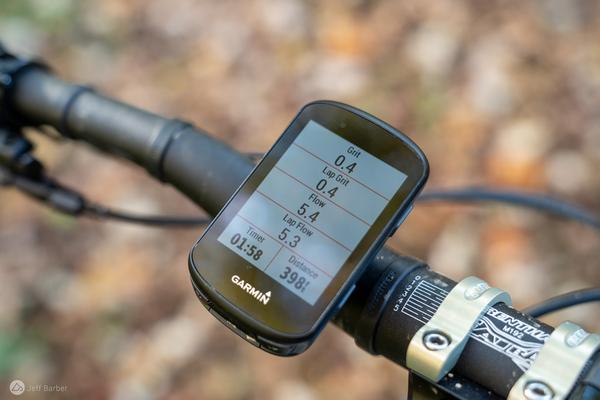 The Garmin Edge 530 has a nice screen that's generally easy to get along with in the dark at night, and also in the brightest mid-day sun. Unlike other units I've tested recently, the Edge 530 screen has a somewhat glossy, smartphone-like finish so reflections and glare can impede visibility at times. It doesn't have a touch screen, which I keep forgetting, and some of the text and map labels can be hard to see during the ride without my reading glasses.
Since the Edge 530 doesn't have a touch screen, zooming and panning the map involves navigating deep into the menus, then using the arrow keys to awkwardly adjust the map. However, most users won't mind because Garmin has a setting called "smart zoom" that automatically adjusts the visible scale and level of detail based on factors like how fast you're riding or how soon you need to turn. The upshot is there's generally no need to push buttons, or to pinch and swipe. I also like how the map shows the name of the trail or road that's coming along your current heading.
There are seven buttons on the Garmin Edge 530: three on the left side, two on the bottom, and two on the right. For many reasons, buttons are easier and more reliable to use on the bike than a touch screen. On the other hand, they can be maddening. Looking at the buttons from the side of the unit there are helpful icons suggesting what they do. I really wish Garmin would print those icons on the screen bezel so they're visible while looking at the screen. I eventually learned what all the buttons do, and now I mostly remember which one goes back, which one selects, and which ones scroll. I still forget, especially when I'm feeling cooked during the ride. Garmin sells an optional mountain bike bundle that includes a bar remote that appears to simplify the controls a bit with visible icons and fewer buttons.
I wear a Garmin Forerunner 235 watch 24/7 to track my steps, heart rate, and even my sleep. I also use it to regularly track my MTB rides, and for a while I was double-tracking my rides, using the bar-mounted Edge 530 for navigation and the wristwatch for getting heart rate data. Eventually I found a handy feature that broadcasts heart rate information from the watch to the Edge 530 to centralize all the data collection and display. Like many included features, this one is buried in layers of menus so I suggest reading the manual, perhaps on a rainy day.
Speaking of features, I'll quickly do a dump on some of the more unique and notable ones. There's a bike alarm that makes a noise and sends an alert to your phone if your bike is moved. (Of course a thief could just grab the GPS off your bars, so maybe this one isn't all that helpful.) Another feature seeks to detect crashes, and can send an alert to an emergency contact. The built-in accelerometer no doubt enables features like these, and the unit includes a barometric altimeter; GPS, Glonass, and Galileo receivers; and Bluetooth, ANT+, and wi-fi connectivity.
There's also a free Garmin companion app that I use regularly to analyze my ride data. Some GPS settings and preferences can be set in the app, though most are set on the device itself. Connecting a smartphone to the GPS unit via Bluetooth allows you to receive text alerts on the GPS.
Garmin says the Edge 530 gets up to 20 hours of use on a single battery charge. On one 4-hour night ride during my testing I used 19% of the battery, which is almost spot on with Garmin's 20-hour estimate. There are a number of settings for maximizing battery life including the ability to put the screen to sleep after a certain amount of time (pressing any button wakes it up) and a simple backlight timer. Real-world battery life can vary greatly depending on many factors.
Garmin Edge 530 Accuracy
I'll keep the geeking out to a minimum here since we've covered this topic a good bit recently. On the track test, the Edge 530 did very well, getting within 0.2% of the actual distance. In fact one of the test miles registered 1.005, the closest to 1.0 since the Wahoo Bolt which hit the nail on the head in its first test earlier this year. (In the second run, the Bolt measured 0.99mi for a slightly lower average accuracy score of -0.5%. The Bolt didn't do as well when tested head-to-head with the Edge 530 in October, averaging 1.7% over distance.)
On the flat-track elevation test, the Edge 530 didn't do so well, showing between 15-50ft. of change. And in a messier, trail-based test, the Edge 530 clocked just 1.33mi for a trail that actually measures close to 2mi. It's likely the wheel based speed sensor included in the Garmin mountain bike bundle improves the accuracy for tight and twisting trails and for situations where GPS satellite signals are faint.
Form factor
My Garmin Edge 530 test unit weighs 77.6g, just a couple of grams heavier than the claimed weight. Despite being a fairly new unit, the Edge 530 still uses an older-style, trapezoidal-shaped USB connector instead of the new USB C size. Maybe it's just me but I can't wait for the day when all of my devices can use the same USB cable.
Conclusion
The Garmin Edge 530 has quickly become one of my favorites thanks to its impressive feature list and relatively simple form factor. This time, I'm on the Edge of my seat to see what the brand comes up with next.
Party laps
Pros and cons of the Garmin Edge 530.
Dirt naps
Tags:
why wont my garmin smart watch charge 235