Apple calls its Watch "the ultimate device for a healthy life" and we agree. It is the best smartwatch you can buy now – if you have an iPhone.
And with the Apple Watch Series 7, you'll be able to keep up with notifications, track your fitness activities and use apps from your wrist better than ever.
Needless to say, this digital health powerhouse is also ticking the right boxes for expectant mothers. But how? Ahead, Natasha Cullen, director of Beloved Bumps, and Roxanne Gan, new mum, yoga and fitness instructor, share the features that they love.
Breathe is now called Mindfulness in watchOS 8 and it offers two exercises: Breathe and Reflect. The former guides you through a deep breathing session with an animated image and haptic feedback as you inhale and exhale. The latter prompts you to think about something for a moment, like a challenge you're facing, a trait about yourself, a feeling or a random thought.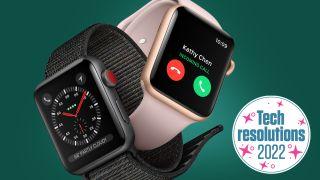 "Many mums-to-be work throughout their pregnancies," says Cullen of Beloved Bumps, which educates and empowers pregnant couples and new parents. "They don't take the time to take a breath and slow down for a little bit. Having that reminder helps."
When Gan was pregnant with her firstborn, the Heart Rate app was extremely handy. "The body's so different when you're pregnant," says the fitness enthusiast. "I started hating the sun. I was sweating so much. At the same time I was trying to stay active, so I watched my heart rate especially in the first trimester. When it hits 140, I'll stop whatever I'm doing and walk around in circles until my heart rate goes down."
The Apple Watch 7 has a brighter, larger screen (20 percent more than the 6 and 50% more than the 3), which makes reading texts and notifications less straining on the eyes. "(Mothers are) tied to a sofa for the first couple of weeks feeding the baby," says Cullen. "A lot of them forget to bring their phone with them. And once the baby's asleep, you don't want to move anymore. Having that connectivity – being able to answer a call with their watch and read messages – is something that a lot of mums appreciate."
To keep her baby sleeping for longer, Gan watches movements outside her door via her Apple Watch so she may intercept a delivery. "We recently installed a camera at the door, so I'd know when anyone's coming and can tell them to leave the delivery at the door without knocking or hitting the doorbell." The Logitech Circle View Wired Doorbell available at Apple stores lets you do just that with the HomeKit Secure Video feature that notifies you when an animal, vehicle, or person is present – and even recognises selected friends and family.
Cullen also recommends multi-device apps like Baby Tracker and BabyCentre to help mothersin their prenatal and postnatal journeys. BabyCentre's pregnancy tracker and baby development calendar app guides expecting mums through pregnancy week by week and day by day, while the baby app features pregnancy tips and fetal development videos timed for the exact stage of pregnancy."(With Baby Tracker, mums can track feeds and naps. On top of that, there's the timer so they can see how long the baby has been breastfeeding for and how often. That's how my clients use the Apple Watch. It's much easier to have a tracker on your wrist, all the time, rather than having to faff around with the phone. Because by the time they get to their phones, they've probably forgotten what they were supposed to do anyway. Baby brain is real!"
This story first appeared on Prestige Online Singapore.
Tags:
why does.my wrist smell after wearing my smart watch