Once you get to the fourth generation in any technology, you can expect the course to be set and the improvements to be minor. Equally, you can expect most of the early issues to be resolved. That's not quite what Samsung's done with the Samsung Galaxy Watch 4. This has little to do with the hardware and everything to do with its tie-up with Google for software, abandoning its own Tizen OS in favour of Google's WearOS.
The end result is a genuinely exciting, if somewhat raw smartwatch experience. It's easily the best Android smartwatch you can buy right now.
---
Image: Alex Kidman/Finder
Samsung has 2 new models of the Galaxy Watch 4. What I've reviewed is the regular Galaxy Watch 4, and I'll be honest out of the gate and say I was a tad disappointed when Samsung sent it to me for review.
Not because I figured it was going to be a bad smartwatch, but simply because I've always been more keen on the physical rotating bezel found on prior Galaxy Watch generations. That rotating bezel isn't dead – it's part of the larger and more expensive Galaxy Watch 4 Classic.
However, the chunky look of the Galaxy Watch 4 Classic isn't going to be for everyone. I can appreciate the sleeker lines of the Galaxy Watch 4 in any case. Not having that rotating bezel does draw your eye far more to your watch face of choice as well.
The Samsung Galaxy Watch 4 is available with either a 40mm or 44mm watch face. It measures either 44.4x43.3x9.8mm and 30g (44mm) or 40.4x39.3x9.8mm and 26g (40mm) without a watch strap fitted. The basic supplied strap is rudimentary, with an inner loop that fits easily and deflects sweat if you're working out while wearing it. Samsung will sell a wide range of bands to suit your style choice.
Image: Alex Kidman/Finder
Samsung uses its own Super AMOLED displays on the Samsung Galaxy Watch 4 with either a 450x450 or 396x396 claimed resolution.
Yes, that's a square resolution setting on a circular watch, which means that Samsung's losing pixels somewhere at the sides.
That's a mathematical curio, however, and the reality for smartwatches is that you don't need a 4K display anyway.
The big benefit of the AMOLED display here is enhanced visibility in direct sunlight. While out and about jogging, I've had no issues seeing the Samsung Galaxy Watch 4's display at any time.
Samsung makes the Galaxy Watch 4 in 4 different colours – Black, Green, Silver and Pink Gold – but you can't get the watch in every colour combination.
If you want a Green Galaxy Watch 4, that's available as a 44mm watch only.
Keen on the Pink Gold version? It only exists with the 40mm body.
Flip over previous generations of the Samsung Galaxy Watch 4 and you'd see an array of glowing health sensors. For this generation, you'll see only 1.
Samsung hasn't cut down the sensing capabilities of the new watches. Instead it crams them into a single "Samsung BioActive" sensor that can measure a wide array of biometric functions. These include body measurements usually only found on smart scales such as the Withings Body Cardio Scale.
---
Image: Alex Kidman/Finder
Underneath the display of either Samsung Galaxy Watch 4 model you'll find a Samsung Exynos W920 Dual Core 1.18Ghz processor with 1.5GB of RAM and 16GB of internal storage. If that was a smartphone, it'd be a real weakling, but again, smartwatches are companion devices to the smartphone you already own.
The Exynos W920 is a new processor, and at least from an on-watch perspective it's responsive enough for basic smartwatch functions. You never multi-task on a smartwatch, and it's not as though it's easily benchmarked. During my review period I never hit a point where I felt like I was waiting for the watch to catch up with what I wanted to do.
On the connectivity front, the Samsung Galaxy Watch 4 pairs to any Android phone via Bluetooth 5, but it's also Wi-Fi, NFC and A-GPS capable.
You can opt for a more expensive LTE variant for true autonomy from your smartphone. Samsung didn't send me the LTE version, so I can't comment on its network performance.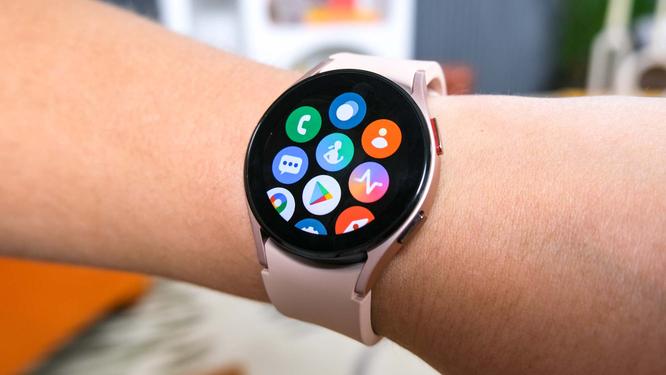 Image: Alex Kidman/Finder
Like every other wearable, the Samsung Galaxy Watch 4 can also track your fitness metrics over time with a huge array of tracked fitness activities. It also includes sleep tracking (including snoring) and a wide slew of new features based around that "Samsung BioActive" sensor.
You can measure your body composition by selecting its tile and placing 2 fingers on the Samsung Galaxy Watch 4 to allow it to measure your body fat, skeletal muscle, BMI and body water ratings.
It's a fiddly process, however, because you have to hike the watch right up your wrist to ensure a tight fit, and stay as still as possible while it takes its slow readings. Even then, I had numerous failures before I could get a reading.
It's also a little crushing having a smartwatch remind me how fat I am. Sure, I'm a middle-aged man, and statistically that means I'm in line with 75% of the population. Still, it's not a nice thing to say, Galaxy Watch 4!
The other new feature that the Galaxy Watch 4 manages with its sensors is a pair of gesture controls. You can shake your arm to answer calls, or twist it to reject them, at least in theory. I had some trouble getting this to work well. It could be problematic if you're exercising and swinging your arms around when a call comes in as well.
The Samsung Galaxy Watch 4 can also measure ECG readings. That was a hardware feature of the last generation, but here in Australia, it was never actually enabled due to regulatory hurdles that Samsung either didn't want to or couldn't manage its way around.
At launch, the Samsung Galaxy Watch 4 will be able to run ECG readings in Australia through the Samsung Health app. However, because I'm reviewing the Samsung Galaxy Watch 4 prior to launch, it's not something I've been able to test.
Image: Alex Kidman/Finder
Based on the ECG readings from other devices such as the Withings Scanwatch and Apple Watch Series 7, I'm quietly confident my heart health is reasonable for now.
While the internal hardware does represent an upgrade across generations as you'd expect, the real story of the Samsung Galaxy Watch 4 relates to its software. At first glance, you might think that it's just another Samsung Tizen OS based smartwatch. Many of the UI elements look the same, and it even has the same annoying "virtual" scroll wheel of prior generations.
Yes, I'm on my prefers-a-physical-scrollwheel-bandwagon again. Let's just say I know which model I'd pick, but if you think that the virtual scroll wheel works just as well, you're going to be disappointed, because its scrolling is just too erratic.
However, the Samsung Galaxy Watch 4 isn't a Tizen device at all. Instead, it's a wearOS device, using an updated version of Google's wearable operating system co-developed with Samsung called One UI Watch 3.
That puts the Samsung Galaxy Watch 4 into interesting app territory, because it can leverage the work that Samsung put into Tizen for speed and some apps, while also opening up a wider array of app choices through the Google Play Store. As you might expect, the actual on-watch UI for browsing apps is quite minimal, but it's workable, especially for apps that are already on your Android phone.
The one area where I think Samsung (and Google) have missed a trick is in offering you a choice of virtual assistant. A lot of Android users would be comfortable with the Google Assistant, but it's entirely absent from the Samsung Galaxy Watch 4. If you want to use voice commands, you're stuck with Samsung's own substantially less interesting Bixby assistant. Will the Galaxy Watch 4 gain Google Assistant in a future update? I hope so.
Image: Alex Kidman/Finder
You might have noticed that I've been mentioning Android phones a lot, and that's not accidental. One issue with the Samsung Galaxy Watch 4 that differs from prior generations is that it's explicitly not compatible with Apple's iOS. It's not clear whether this is a Samsung or Google edict, or indeed how it would affect not-quite-Android devices like the Huawei P40 Pro .
It's great to see the WearOS ecosystem evolve like this, and it means that the Samsung Galaxy Watch 4 can only expand its feature set in the future, because the walls between developers working just on Tizen or on Google Play are now meaningless. However, that's very much a future consideration.
It does mean that, to an extent, while the Samsung Galaxy Watch 4 is the "4" phone, it has a quantity of being a "version 1" device in software terms. Of course, future devices should be better, but there may be stumbles along the app path that only Galaxy Watch 4 owners have to contend with.
---
Image: Alex Kidman/Finder
The Samsung Galaxy Watch 4 features a 361mAh internal battery on the 44mm model as tested, dropping to just 247mAh on the 40mm model.
Samsung's claim here is that the Samsung Galaxy Watch 4 can manage up to 40 hours of battery life on a single charge. Having tested it over the prior 2 weeks, I'm not entirely convinced that this is a realistic figure unless you're only really lightly using it.
A day's usage is entirely within its scope, and even using it for sleep tracking I could get to around 30-40% battery on the second day. However, I never made it into the late afternoon on that second day at all. Realistic battery usage figures more likely sit in the 20 to 30 hour range, and less if you opt for the LTE model.
Recharging is via an inductive puck charger supplied in the box with the Samsung Galaxy Watch 4, although there's no included plug charger.
---
How we score our reviews
The Samsung Galaxy Watch 4 might not look like a new beginning on the outside. Its design is a clear evolution of Galaxy Watch models we've seen in prior years, and you'll either like or loathe that look. I think it's pretty clear which model I'd buy, but that's 100% down to taste, just like wearing a smartwatch is in the first place.
However, it's also a new beginning for Samsung, and hopefully one for Android wearables. For the longest time they've trailed the Apple Watch in terms of overall utility, and the tie-up between Samsung and Google should help to challenge that in some significant ways.
That does mean that while it's an established category, in some ways you'd be an early adopter if you purchased the Samsung Galaxy Watch 4. You would get a very good smartwatch in return, however.
---
The Samsung Galaxy Watch 4 goes on sale in Australia from 10 September 2021, with pricing starting at $399 for a 40mm model up to $699 for a 46mm Galaxy Watch 4 Classic LTE model. The unit supplied for review by Samsung costs $449.
RRP: $399.00From $400.00 to $490.56 at eBayFrom $399.00 at The IconicFrom $388.99 at Amazon
AmazoneBay
---
The Samsung Galaxy Watch 4 was paired to a Samsung Galaxy S21 Ultra 5G and a Samsung Galaxy Z Flip 3 for testing purposes over a fortnight's testing. All features were evaluated including in-built apps, the Google Play store, health and fitness functions (excluding the ECG, which was not live at the time of testing) and battery life.
Where to buy
---
NFC No
---
Gps Yes Heart Rate YesPedometer Yes Rechargeable YesTouchscreen YesVoice Control Yes
---
Tags:
will australian smart watch work with united states phone