Buy from Garmin | £799.99-£999.99
From the moment Garmin introduced the Venu smartwatch and its AMOLED screen, people have been hoping to see a similar screen brought to a watch with the sports tracking features of the top-of-the-range Fenix. The Epix 2 is that watch, and it doesn't disappoint.
While battery life does take a hit compared with the Fenix 7, the Epix 2 still lasts five or six days on a charge when subjected to intensive use, and the screen is a major step up on the transflective display you get on the Fenix. The fly in the ointment is the high price of the Epix 2, but if you have the money it's a sensational bit of kit.
Garmin Epix 2: Release Date And Price
The Garmin Epix 2 launched on 18th January and costs between £799.99 and £999.99. One factor that informs the price is the materials used. The basic Epix 2 model has a steel bezel and a gorilla glass screen. All the models from £899.99 up have a lighter titanium bezel and a sapphire crystal screen, while the £999.99 watch comes with a chestnut leather band as well as a silicone band.
Along with the improvement in materials, a couple of extra features are found on the more expensive Epix 2 models. The sapphire watches come with Garmin's TopoActive maps preloaded, whereas you download them yourself (free) on the cheaper Epix 2, and it's only the sapphire watches that get the multi-band GPS mode, whereas the base model gets GPS-only and multi-GNSS tracking modes.
Buy from Garmin | £799.99-£999.99
Design And Hardware
The Epix 2 is the same size as the standard Fenix 7, with a 47mm case and a 1.3in (33mm) touchscreen. The Epix 2's screen, however, is a bright AMOLED 416 x 416 pixels display. It's fantastic, and made the transflective screen on the Fenix 7X I was testing at the same time look dull in comparison.
Pictured: Garmin Epix 2 (left) and Garmin Fenix 7X (right)
I tested the black titanium Epix 2 with a sapphire crystal display, which at 70g with the silicone band is a little lighter than the steel model at 76g.
Aside from the screen, the Epix 2 packs in all the same hardware as the Fenix 7. It's waterproof to 10ATM, has a heart rate sensor, pulse oximeter, altimeter, barometer and compass. You can connect external sensors via ANT+ or Bluetooth, and all models offer multi-GNSS tracking that uses GPS, Galileo and GLONASS satellite systems simultaneously, while the sapphire edition has a multi-band, multi-GNSS mode for even greater accuracy.
Battery Life
My main concern with the Epix 2 was that the fabulous screen would reduce its battery life to just a couple of days on one charge. I'm delighted to report that this is not the case. Garmin lists the battery life as six days in smartwatch mode with the screen set to always-on, or 16 days with raise-to-wake activated, and 30 hours of GPS tracking with always-on, or 42 hours with raise-to-wake.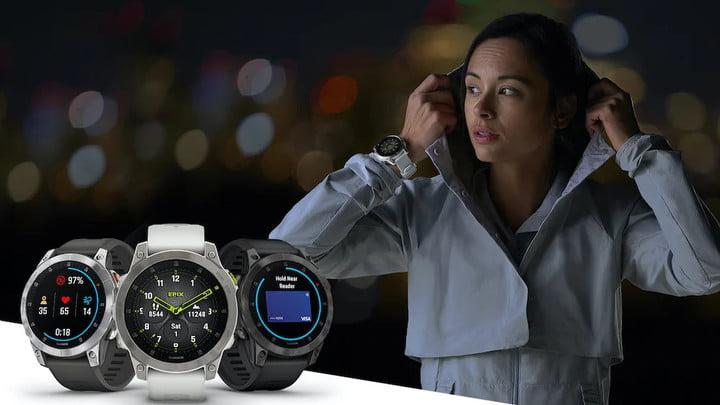 If you're using the more accurate GPS modes those numbers will drop – at 100% my Epix 2 estimated it would last 15 hours if tracking using both multi-band GPS and multi-GNSS, or 24 hours of just multi-GNSS.
There are many ways to increase the battery life, but for me the key question was how long would the Epix 2 last under heavy use and everything turned on. With the always-on screen activated, the screen set to max brightness, running every day and tracking every activity with multi-band GPS it lasted me six days on the first charge, which dropped to five days once I linked it to my phone to get notifications.
On one three-hour run using multi-band GPS in sub-zero conditions (battery life tends to drain faster in the cold) the Epix 2 dropped 11%, and a 45-minute run with music playing used 5% of the battery.
All in all, I've been impressed with the battery life. Even though it falls well short of watches like the Garmin Fenix 7X or Garmin Enduro, or the Coros Vertix 2 which can all last a month on one charge, I think it's a fair trade-off for the AMOLED screen. Most importantly, the Epix 2 doesn't drain so fast that it becomes annoying or inconvenient.
GPS Accuracy
I am someone who obsesses about GPS accuracy so I had high hopes for the multi-band modes that are starting to appear on watches (the Coros Vertix 2, released in late summer 2021, was the first watch I tried with this feature). However, I think the improvement in GPS accuracy that I've experienced with watches of late actually comes from the multi-GNSS modes that use several satellite systems at once.
This seemed to be the case for both the Epix 2 and Fenix 7X, and both watches produced reliably accurate tracks in either multi-band or multi-GNSS mode. I didn't notice even greater accuracy when in multi-band mode, but it perhaps gives you a better chance of getting the best GPS tracking on any given run. By that I mean the accuracy will sometimes still be off, because consumer GPS is never infallible even at its best. But overall I found the Epix 2 to be reliably accurate, and it is certainly better on this front than the Garmin Fenix 6 Pro and Garmin Forerunner 945 I have been using regularly over the past couple of years.
Sports Tracking
Having used the Fenix 6 Pro for the past couple of years and the Fenix 7X in tandem with the Epix 2, I am confident saying that the Epix 2 delivers the same sports tracking experience as the new Fenix, with a nicer screen to display it all on. There can't really be any higher praise, as the Fenix line has offered the best sports tracking of any watch for its past couple of generations.
Every sport I can think of has a dedicated mode, and for the core trio of running, cycling and swimming all the data you could possibly want is available on your wrist, either tracked by the watch or via an external sensor you can link to it.
Beyond the tracking, the Epix 2 offers detailed training analysis and guidance that can help you get the right balance of easy and hard sessions each week. It will even suggest workouts to do each day to help achieve that optimal mix. There's also recovery advice and predicted race times for 5K, 10K, half marathon and marathon events, which are plotted on a graph so you can see your historical performance.
Stamina is an ambitious new feature introduced on the Epix 2 and Fenix 7 watches. It aims to provide an estimate of your remaining actual stamina, plus your potential stamina, for long runs or cycles based on your recent training. It takes into account your VO2 max estimate, plus other details like the kind of training you typically do – such as whether you tend to do short or long runs, for example.
On screen you get a percentage showing your remaining juice, and also an indication of whether you're draining that stamina rapidly, or maintaining or even increasing it. I found it hard to get my head round the feature, and when using it during a cross-country race it didn't seem to match up to how I felt. I think with more use it could become a helpful tool, especially in longer events where it should encourage you to not go out too fast and burn your reserves early. However, I'm not sure I'll use it instead of the other methods of pacing available on the Epix 2, like heart rate, PacePro and, well, pace.
Maps And Navigation
It's getting repetitive, but the Epix 2 delivers the same maps and navigation feature as the Fenix 7 line, although in this case the AMOLED screen makes a significant difference. The maps are much brighter and clearer, and consequently routes are easier to follow. In an area where Garmin already beats the competition hands down, I rate the mapping experience on the Epix 2 as the best you can get from Garmin.
Garmin's mapping features go well beyond what you get from other brands, with turn-by-turn directions. Then there are tools like ClimbPro, which give a breakdown of the climbs in your route that can help you pace ascents and descents, and better judge your efforts over long runs with a lot of both. You can also create new routes on the watch itself, either loops to follow from the start or a way to get back to your starting point if you've got lost during your activity.
Smart Features
The AMOLED touchscreen makes the Epix 2 look like a smartwatch, but although it does have some impressive smart features it falls short of what a true smartwatch like the Apple Watch offers.
One area where Garmin excels is music and Spotify integration in particular, with Spotify Premium subscribers able to wirelessly sync playlists and podcasts across to the watch for offline playback. When I was running with the Epix 2, I found it easy to pair running headphones with it and the connection was reliable. You can also manually transfer music to the Epix 2 by plugging it into a computer running free Garmin Express software.
The Epix 2 also offers NFC payments, though Garmin Pay is still not well supported by high street banks in the UK – Santander is the only one available. You can use other banks like Starling and Revolut, but this is an area where smartwatches like the Apple Watch are streets ahead.
Garmin's Connect IQ app store also lags behind the competition. It mostly contains watch faces and extra data screens for sports modes, rather than the extensive array of apps available on Apple and Android smartwatches.
---
See related
---
Activity And Sleep Tracking
The Epix 2 tracks all the everyday activity metrics you could want, including calories burned, active minutes and steps. You can choose your daily steps goal to adjust automatically in line with your activity, so you always have a challenging but achievable goal to shoot for.
Garmin's Body Battery feature also provides a simple snapshot of your energy levels at all times, rated out of 100. This is based on factors like your heart rate variability, plus recent sleep and activity levels. It's a nice idea and can be useful, but it's undermined a little by Garmin's sleep tracking, which I have found to be inaccurate in pretty much every Garmin device I've used. It tends to overestimate how much sleep I've had by logging sleep when I'm sitting or lying down but still awake.
Should You Buy It Or Something Else?
The wait for a Fenix with an AMOLED screen is over and it delivers what I hoped for. I've found it a more enjoyable watch to use than the Fenix 7X because of that screen, and the battery life is still good enough in my opinion. That said, those who prefer only having to charge a watch once a month will be better served by a Fenix 7 or Coros Vertix 2.
No other company offers a watch that combines the screen of the Epix 2 with such impressive sports tracking, and Garmin is also well ahead when it comes to the mapping and navigation feature it offers.
However, for all its qualities the Epix 2's price is still hard to swallow, especially when you can get the Fenix 7 for £200 less – or find the Fenix 6 Pro in a sale for substantially less than that.
The Epix 2's screen is tremendous and if money was no object I'd pick the Epix 2 over any other watch available. But if you can live without the AMOLED display, it's fair to say you can find better value elsewhere within Garmin's range and beyond.
Buy from Garmin | £799.99-£999.99
Tags:
why is my smart watch offline