Should you buy the Fossil or the Garmin smartwatch?
If you are in the market for smartwatches, then you know that Fossil and Garmin smartwatches are top smartwatch brands that are popular with the fitness crowd. Watches produced by these companies are designed primarily for fitness tracking but are also capable of handling some productivity tasks.
While the Fossil smartwatch models run Google's Wear OS, Garmin watches have their own operating system that integrates with the Garmin Connect app instead of Google. Each brand has other unique features that set its smartwatches apart from the competition. Here's a rundown of what each one offers so you can make the best choice.
Advertisement
Fossil smartwatches
Fossil smartwatches are famous for their stylish-natural look and their affordable price.What sets them apart from Garmin smartwatches is that they rely on Wear OS. Since Wear OS is based on Google, it gives you access to a multitude of third-party apps and other perks, such as music playback, weight tracking and more.
These round-faced smartwatches come in various colors, finishes and with replaceable straps. That means that you can change straps for your watch to match your outfit or for different occasions. Their AMOLED screens can produce a convincing traditional-looking always-on display that is only exposed when you receive a notification.
Advertisement
They have bigger faces and smaller bezels compared to other smartwatches. A bigger face means more real estate for text messages and navigation between apps.And you can always use their rotating crowns to select apps if touching the screen seems tedious or messy.
Since these watches run Wear OS, you can control compatible smart home devices using Google Assistant. You can also use the Google Fit app to track fitness data such as your heart rate, steps taken and workouts.
The fact that you can use Google Assistant means that Fossil smartwatches have speakers and microphones so you can take or make calls without taking your phone out of your pocket. If you want premium fitness apps on Google Play Store, you can buy them using the Google Pay feature on your watch.
The battery life on these smartwatches barely lasts a day on a single charge under moderate use. That reduces to half a day or just a couple of hours of battery life if the watch is under intense use. Another issue with Fossil watches is that they cannot measure blood pressure, ECG and sleep.
Maybe this can be explained by the fact that they are not that impressive as far as performance is concerned. While it's accurate to describe Fossil watches as smartwatches, they have limited productivity features that you are likely to find in Apple Watches or Samsung smartwatches.
Fossil smartwatches cost from $179-$319. Just like other smartwatch brands, the higher the price the better the watch's features. For instance, Fossil smartwatches with AMOLED displays and 8GB storage cost more than models with the same screen but only 4GB of storage.
Fossil Gen 4 Venture HR: available at Amazon
If you want an option that offers the most value for its price, the Gen 4 Venture is a great choice because it comes with a built-in fitness tracker, NFC contactless payments support and 24-hour battery life.It's a cheaper option suitable for beginners.
Fossil Sport: available at Amazon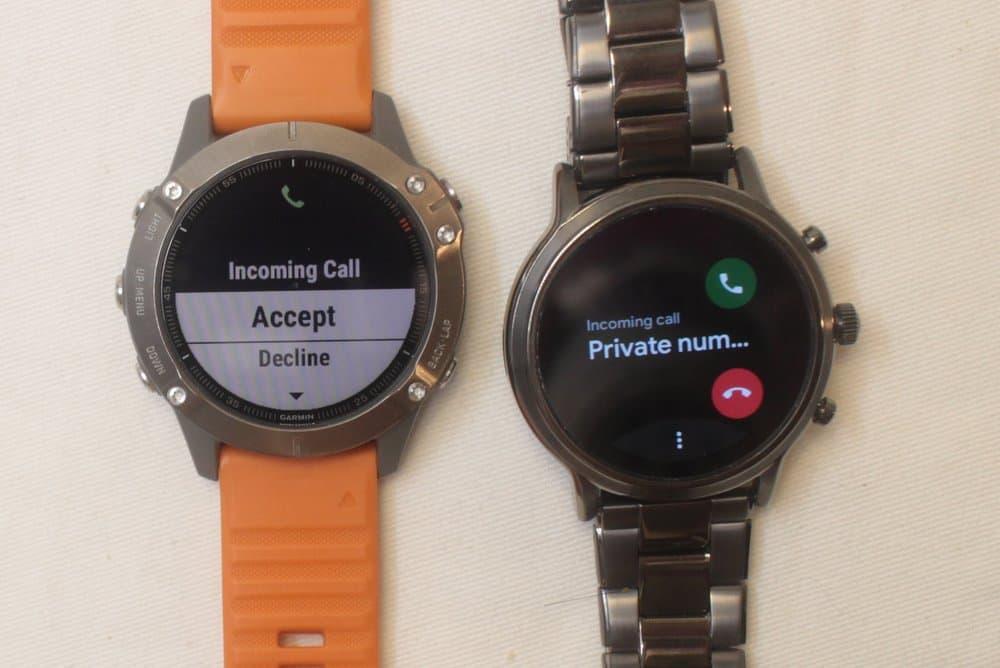 The Sport is a great choice for fitness enthusiasts because it runs the powerful Qualcomm Snapdragon 3100 processor and has 512MB of RAM. This means that it can keep up with your workouts while tracking your heart rate and calculating payments at the same time.
Fossil Gen 5 Carlyle HR: available at Amazon
Serious athletes or runners can benefit from Carlyle's heart rate and activity tracking features.You also get NFC payments, quick charging and a speaker for tethered calls, all wrapped within an attractively designed watch.
Garmin smartwatches
Garmin smartwatches are among the best health and fitness trackers you can buy. They are designed to track specific activities such as running, swimming and cycling, and offer various forms of workouts. Since they are compatible with both Android devices and iPhones, you can pair them with your phone to receive notifications.
Garmin LTD, the company that manufactures Garmin smartwatches, originally specialized in making GPS devices for motor vehicles. So it's not surprising that Garmin smartwatches have the most accurate GPS in the smartwatch market making the brand a great option for competitive runners.This is because GPS shows runners the distance they have covered and how fast they have covered it.
If you exercise for hours or participate in long triathlon events that take place off the grid, then you will be pleased to know that Garmin watches can last for up to five days on a single charge. There are models that can last for 14-65 days on a single charge if kept on standby mode.
Garmin watches track heart rate, sleep, workouts and blood-oxygen saturation because they have the latest processors and software. You also get pre-loaded workouts such as cardio, strength, floor climbing and elliptical training. There are Garmin models with LCD displays and models with vibrant and crisp AMOLED displays.
Garmin smartwatches are some of the most expensive watches in the industry. This is despite the fact that they do not have access to the hundreds of fitness apps on Google Play. Another issue is that they are not that good at tracking swimming.So, if you are involved in triathlon competitions involving swimming, you may not get accurate data, especially when you are training.
If you use your smartwatch to listen to music as you exercise, you may experience difficulty integrating your Garmin watch with Spotify.
Budget Garmin watches will cost you about$199-$329. But the models that fall within this price range only have the basic features of Garmin watches and may not have the storage space and battery life available in other models. Mid-range models are roughly $379-$499, while the more expensive versions with powerful processors and AMOLED displays can cost as much as $799.
Garmin Fenix 6: available at Amazon
It's an excellent smartwatch offering 36 hours of battery life, while GPS is up to 14 days on standby mode. The Fenix 6 excels even more at outdoor activity tracking, heart monitoring and even works underwater.
Advertisement
Garmin Forerunner 935: available at Amazon
Advertisement
If you are looking for a powerful Garmin watch that is handsome and comfortable to wear, the Forerunner 935 is the watch for you. This stylish option with built-in GPS also offers heart-rate tracking and is designed for activities, such as swimming, running and cycling.
Garmin Forerunner 945 LTE: available at Amazon
The Forerunner 945 allows triathlon athletes to communicate through text and audio messages, even if their phones are far away. It also provides a lot of data that can help you improve your workouts. You don't have to pair it with your phone to access and listen to Spotify or Deezer.
Should you buy a Fossil smartwatch or Garmin smartwatch
If you are a serious athlete or a fitness enthusiast, Garmin smartwatches may provide you with enough data to measure your progress. Beginners who just started running or working out recently are better off with Fossil smartwatches because they offer limited data that is easier to understand.
Michael Rodgers Obunga is a writer for BestReviews. BestReviews is a product review company with a singular mission: to help simplify your purchasing decisions and save you time and money.
BestReviews spends thousands of hours researching, analyzing and testing products to recommend the best picks for most consumers. BestReviews and its newspaper partners may earn a commission if you purchase a product through one of our links.
Distributed by Tribune Content Agency, LLC.
Advertisement
Latest What to buy
Advertisement
Most Read
Daily horoscope for March 25, 202212:00 AM
Mayor Lightfoot's pick for new alderman has deep roots in Chinatown, would be 1st Asian American woman on City Council: 'The 11th Ward is Chicago'Mar 24, 2022
Proposed railroad merger will 'degrade the safety and reliability' of service, Metra saysMar 24, 2022
Tags:
why don't i get text on my fossil smart watch