Because of the constant progress of technology, the method by which we charge our electronic devices has undergone major changes. The most notable of these developments is the advent of cord-free charging options, such as wireless charging devices. Here, we'll look at the five most common types of wireless charging systems, which are revolutionizing the way we power our electronic gadgets, and the reasons why using a wireless charger is better compared to wired chargers.
Different Types of Wireless Charging
· Resonant Charging
The resonant charging process functions similarly to the inductive charging procedure. However, it employs a device known as a "resonator" to enable the transmission of energy over wider distances. Devices can be in any position relative to the charging station and still be charged. There is more leeway and convenience for the user because of this.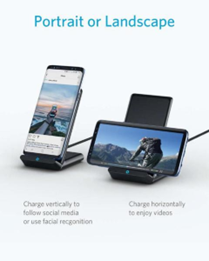 · Inductive Charging
Inductive charging systems are by far the most common type of wireless charging infrastructure. The procedure entails the use of an electromagnetic field to transmit energy from one source to another. The charger generates an alternating electromagnetic field, which must be converted by the receiving device into electrical power. Examples of this technology can be found in the most recent models of smartphones and electric toothbrushes.
· Wireless Charging Using Microwaves
In the process of microwave wireless charging, energy is transferred by microwaves. A rectenna sometimes called a rectifying antenna, is housed in the device and is responsible for collecting the microwaves and transforming them into DC power. Even though this method has the potential to outperform infrared wireless charging in terms of range, it is still in the experimental phase for issues of safety and efficiency.
· Using RF (radio frequency) Energy
Wireless power transfer using radio waves' electromagnetic radiation is called radiofrequency energy harvesting. The transmitter emits radio waves, which are picked up by the receiver (usually a very small chip) and converted into direct current energy. Low-power gadgets, such as wireless sensors and medical implants, typically use this method.
· Charging Via Infrared
Infrared wireless charging works because infrared light may be used to transmit power. The energy is generated by pointing an infrared laser toward a solar cell receiver, which converts the light into electricity. There are still certain questions concerning the reliability and efficiency of this technology that need answering before it can reach its full potential.
Reasons Why Wireless Charging is Better than Wired Charging
· Wireless charging avoids the hassle of plugging in a charging cable.
You can imagine the convenience of not having to constantly plug and unplug a cord to charge your phone. With this charging pad, all you must do is set your phone down and it will begin charging automatically. Everything looks sleek and well-organized, so you don't have to stress over misplacing your cords or chargers. The semblance of order prevails.
However, we haven't managed to get rid of all the cables. Without a connecting cable, your charging base will be unable to talk to the wall outlet.
1. You may charge your phone without worrying about it getting stolen or damaged because it uses a more secure mode of transmission.
In contrast to the traditional method of powering electronics by plugging them into an outlet, wireless charging eliminates the need for direct contact between the charging device and the power source. In other words, it reduces the risk of an electrical shock or connection failure. Many injuries and deaths have been linked to the improper usage of cables or mobile phones while they are charging. Does that not strike you as horrifying? However, such things do happen. The wireless charging process is promptly terminated when you pick up the smartphone. Because of this, wireless charging may be less risky.
2. It will experience less wear and tear and it lasts longer.
Using wireless charging eliminates the need for wires, as was previously mentioned. Since a USB port isn't needed for charging, there is less wear and tear on the cord, the wall adapter, and the phone's port.
Phones that are both waterproof and dustproof are now technically viable to develop.
Bottom Line
In conclusion, these wireless charging devices are an excellent illustration of a major advance in technological advancement. Because of its advantages such as not having to plug your device in the outlet, not worrying about your device getting damaged or stolen, and having less wear and tear, wireless charging hints at a future where plug-in power sources will be obsolete. However, it is crucial to bear in mind that most of these technological advances are still maturing and have room for further improvement.