Razer has announced the Razer X Fossil Gen 6, a Razer-themed edition of the Fossil Gen 6. The changes between the new smartwatch and the Fossil Gen 6 are purely cosmetic, though. According to Razer, it has created two new watch straps, both silicone. Additionally, it has developed three watch faces, including one with Razer Chroma elements.
However, Razer has not made any hardware changes from the standard Fossil Gen 6. Hence, the Razer X Fossil Gen 6 has a Snapdragon Wear 4100+ SoC and runs Wear OS 2.0. Anecdotally, the Fossil Gen 6 lasts approximately a day between charges. Addie Tan, Associate Director of Business Development at Razer, explains Razer's decision making behind partnering with Fossil: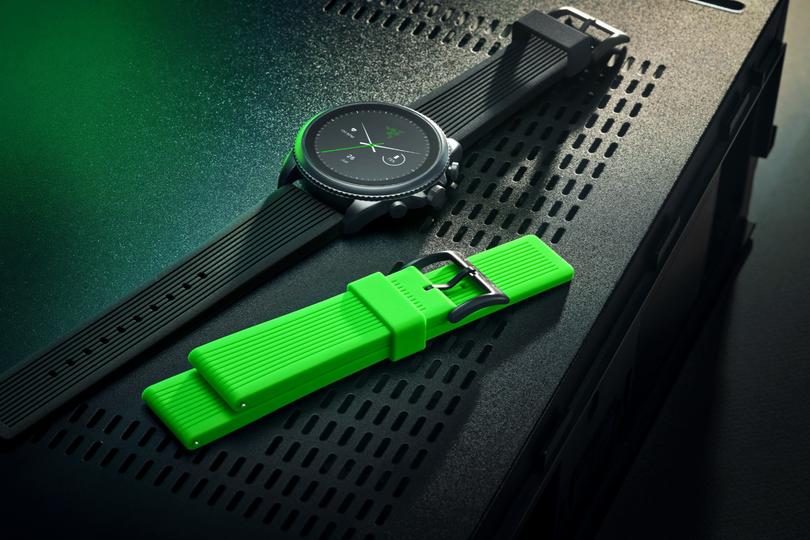 We are excited to partner with Fossil to design a limited-edition smartwatch and to share the Razer X Fossil Gen 6 with our community of gamers around the world. We are always on the lookout for opportunities to compliment gamers' lifestyles and to bring them products that not only look good but bring value to their lives as well. This is why we kept the gamers' well-being at the heart of the Razer X Fossil Gen 6. Leveraging Fossil's innovative technology and Razer's iconic design aesthetic, this smartwatch will be the perfect accessory to keep you ahead of the game.
The Razer X Fossil Gen 6 will launch later this month for US$329. The smartwatch will be available globally, but only 1,337 units will be created. For reference, the Razer X Fossil Gen 6 will be orderable from Fossil and Razer directly; Fossil will continue to sell the Gen 6.
Purchase the OnePlus 9 Pro on Amazon
Razer
Wear OS 3: More details about Pixel Watch launch software revealed with next-generation Google Assistant, Fitbit, Google Pay and YouTube Music services detailed03/20/2022Deal | Razer's popular DeathAdder V2 Pro wireless gaming mouse is on sale at Amazon for 46% off MSRP02/17/2022TAG Heuer launches the Connected Calibre E4 with Wear OS 2 and a modern Snapdragon chipset02/11/2022Samsung hints at next-generation Google Assistant and an improved YouTube Music app for One UI Watch and Wear OS02/09/2022ActiveFit 1.0: Reebok's first smartwatch launches with blood pressure and SpO2 sensors at a budget price01/24/2022Google confirms that it will finally be more accommodating to left-handed people with Wear OS change01/13/2022Skagen Falster Gen 6 unveiled with the features of the Fossil Gen 6 in a sleeker design01/10/2022NexPad: New Nex Computer device launches as a tablet and a secondary laptop display01/06/2022Razer Zephyr Pro: US$150 high-tech mask showcased with built-in speakers01/06/2022Nex Computer announces the NexMonitor, a 27-inch monitor designed to turn an Android smartphone into a desktop computer01/06/2022Realme DIZO Watch R launched with an AMOLED display, SpO2 sensor and a GPS module for a budget price01/06/2022Xiaomi 11i: Indian variant of the Redmi Note 11 Pro debuts with a massive battery and in four colours01/06/2022Xiaomi 11i HyperCharge: 120 W and 108 MP wielding smartphone launches in India with a 120 Hz display01/06/2022CES 2022 | Razer Blade 17: Razer's desktop replacement comes with up to a 12th gen Intel Core i9-12900HK, 64GB of DDR5 RAM, and an NVIDIA GeForce RTX 3080 Ti01/05/2022The Honor Watch GS 3 re-appears in a new offline retail leak01/05/2022ONEXPLAYER mini: Global launch date of supposed Steam Deck competitor officially confirmed01/05/2022Garmin Venu 2 Plus: 43 mm smartwatch launches in three colours with voice assistant support on Android, Samsung and iOS devices01/04/2022Quantum Operation Inc announces smartwatch that supports non-invasive blood glucose monitoring12/29/2021Xiaomi Watch S1: Stylish smartwatch launches in multiple styles with a large display12/29/2021Xiaomi Watch S1 joins Xiaomi 12 smartphones in upcoming major launch event12/26/2021Huawei Watch D: Waterproof smartwatch launches with blood pressure monitoring and ECG capabilities for the masses12/24/2021Google Pixel Watch to launch with next-generation Google Assistant and maybe even an Exynos SoC12/23/2021Future Fitbit wearable could offer mental state monitoring and mood tracking at a potential privacy cost12/23/2021Amazfit's latest GTS 3, GTR 3 and GTR 3 Pro smartwatches get a new software update12/22/2021Mobvoi TicWatch GTK launches with up to 10 days of battery life at a budget price12/22/2021A bumper leak purports to spoil Garmin's entire CES 2022 product showcase12/19/2021 static version load dynamicLoading CommentsComment on this articleLenovo unveils the Go 130W multi-po...CES 2022 | Lenovo announces the Thi... Alex Alderson - Senior Tech Writer- 5341 articles published on Notebookcheck since 2018Prior to writing and translating for Notebookcheck, I worked for various companies including Apple and Neowin. I have a BA in International History and Politics from the University of Leeds, which I have since converted to a Law Degree. Happy to chat on Twitter or Notebookchat.contact me via:@aldersonajPlease share our article, every link counts!
Tags:
why does my fossil smart watch turn off when