As companies around the world roll out permanent remote working policies, workplace platform Envoy is reopening its doors and welcoming employees back to the office. While many will work a hybrid, flexible schedule, the company is bucking the trend that has seen organizations focusing primarily on accommodating remote work; instead, Envoy is investing in strengthening the employee experience across all workspaces—including helping employees commute to the office and offering them free meals while they're on site.
- Advertisement -
It's no wonder that Envoy is taking that approach, as the company's platform has evolved to cater to a hybrid workforce—and is in use at companies including Pinterest, Hulu and Slack. The organization's unique focus on the modern employee experience is part of what attracted newly named Chief People Officer Annette Reavis, who joined the company in November. Now, among her priorities, she is focusing on doubling the workforce over the next year.
Reavis has experience at high-growth companies—she spent a decade as a vice president of HR at Facebook starting in 2010—and plans to leverage those lessons for her new role.
HRE: Envoy's goal is to significantly grow headcount in the next year. Especially amid the context of the Great Resignation and high turnover at so many companies, what is the foundation of the work you're laying for this effort?
Reavis: We are so lucky to not have super-high turnover, but we're still making sure to think about the employee experience and how we can continue to make it really strong. The other piece is about understanding the market; we recently did a compensation survey to make sure we know the market. We're also keeping the bar high on who is hiring. We have one of the very best recruiting teams, and we do a lot of work around who is doing our hiring. Those pieces together will help us to be able to double our revenue and talent in the next year.
HRE: Amid this rapid growth and external hiring, what role will internal mobility play?
Reavis: One of the things we've done is hire a head of people growth who owns the experience, and part of that is helping employees develop out their career paths. Our next step is going to be doing a better job of mapping between different careers and setting managers up to know what people want to do [with the company]. We're going to start doing stay interviews, where we meet our talent once a quarter; we'll be training managers to do that so they can get from people what we need to do to keep them at Envoy.
HRE: What is your approach to remote/hybrid work?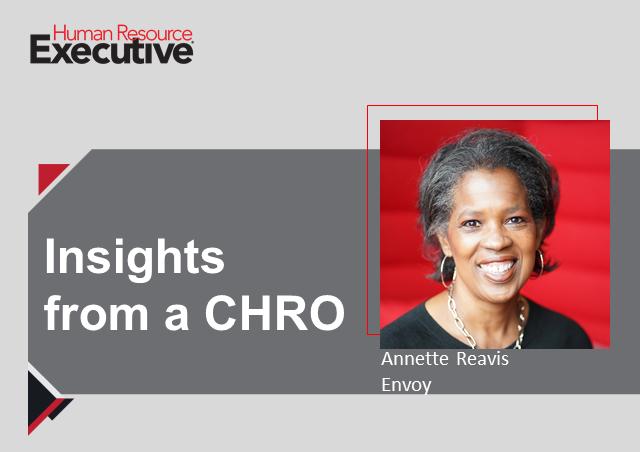 Reavis: We believe people need to get out of their houses and back into offices, in a hybrid way—not six days a week, but they need to come in and collaborate and work closely with their peers and, honestly, get to know other people. And we have to allow that to happen safely. So, we have three things right now: people in the office if they live nearby, hybrid people who come in only a few days a week and we also have remote, but that is a lower percentage. So far, feedback has been about 80% all good; people think it's great and are excited [about coming back into the office]. I was just having a chat with someone in the bathroom as we were both putting our lipstick on; you can't do that at home. We do have a percentage who either has unvaccinated children at home or who lives with someone else who is high-risk and those are the ones we're having individual conversations with to figure out the best path for them. But no one at all has said, "I don't want to come in and collaborate." It's much more that people want to come in two or three days and then have the rest of the days at home. We're also putting things in place to ensure access to childcare resources and we're looking at shuttles to cover the first mile and last mile to help people get to public transportation. And we offer lunch five days a week and breakfast two days a week. When people are here, we don't want it to be a hardship.
See also: Hoping for hybrid, remote success in 2022? Look to your leaders
HRE: You spent a decade at Facebook. What lessons about company culture did you take from your time there that you'll tap into at Envoy?
- Advertisement -
Reavis: I feel very lucky to have had 10 years at Facebook; they have the best people in the world and I learned a ton as we grew from 14,000 to, when I left, 40,000 employees. One of the things I brought with me is scale. I talk a lot about scale in terms of if the processes in place are designed to outlive all of us; we can't just be doing our best for today, it has to last into the future. I make my colleagues crazy because I'm always saying, "It doesn't scale, it doesn't scale!" The other thing at Facebook is that we were able to hire people who truly believed in our mission. On the good days, everyone was fine but, on the bad days—like when the privacy issues hit in 2009—we didn't have [employees] on Facebook or tweeting or talking to press negatively because everyone believed in what we were doing. So, here at Envoy, we're making sure our people truly believe in the mission of what we're doing, and we look for that when we interview talent; we have questions around making sure we're the right place for someone.
HRE: Heading into the ongoing uncertainties of a post-pandemic world, what do you see HR's chief role being?
Reavis: Our role is to help our organizations make the transition. We have to stay ahead of the trends on what's coming. [Employers] need someone on the team to know what's happening in the market, how the rules are changing, and HR can be the leader on that. As the world continues to open back up, we need to make sure we're providing an environment that's safe for people and that they want to come to because the world is going to stay hybrid. I don't see anyone going back to four or five days in the office; I think it'll be three days, max. Right now, everything is focused on COVID, but this is forever now, so we need to figure out what we need to put in place to make sure we're building an engaged environment in the new hybrid world.
Related: Here's how leading-edge companies are redesigning for hybrid
HRE: What do you know now about HR that you wished you had known when you started your career?
Reavis: Well, I started as a tax accountant! I think I'm lucky to not have come up through HR in the traditional way; it gives me more of a business perspective. I think the thing I wish I had known is that you can't make everyone happy all the time, but the people who are unhappy can drive the happy people to be unhappy. It only takes one or two people to rock the boat, so investing your time in those one or two people is just as important as investing your time in the masses.
HRE: Outside of work, what are you passionate about?
Reavis: My children. I'm a widowed mom of two boys; my husband and I were married for 19 years before he died. He was the love of my life, and I had no plan to ever get married again, which meant I would be a single mom to two kids for the rest of my life. My oldest is a senior at George Washington and my youngest is a freshman at Loyola Marymount University. Every day, I'm so grateful for these young men and that I get to be their mom. So, they're what I spend most of my energy on! I also read romance novels regularly and like to spend time with friends. I'm a connector; just today, I pinged five people I hadn't talked to and said, "Let's get together." I want to look back at the end of my life and make sure I've done everything and used every bit of energy for the people I love and care about and doing work that I love. That's a successful life.
Tags:
how to read a digital bathroom scale