The best bathroom scale
There are several ways to keep track of your body metrics. Many people want to learn more about their body composition, from body mass index (BMI) to muscle and fat percentage. But the most common measurement people use is checking their weight. This has become a daily habit for many people, especially those with body composition goals or health concerns.
While it's a great idea to purchase a quality bathroom scale, not all scales are alike. You should always consider accuracy, ease of use and function. Some bathroom scales use mechanical or analog technology, while others use electronic sensors and digital displays. A bathroom scale with smart technology can store information on an app, and others can provide additional information such as BMI.
Advertisement
Finding the right bathroom scale for you is a matter of budget, personal preference, aesthetics and compatibility with other devices. Most stores offer a wide range of options, so it's a good idea to do some comparison shopping before making a final decision.
What to look for in a bathroom scale
Most companies test their digital bathroom scales at the factory or have them certified by a lab for accuracy before shipping them out. So your at-home results should be pretty close to the ones you see at the doctor, give or take a pound or two. Analog scales, on the other hand, may arrive uncalibrated and become less accurate over time. Better models allow the user to calibrate by weighing an object with a standard weight, such as a weightlifting plate or a bag of flour. If you use this method, be sure to zero out the scale after calibration.
Advertisement
Many digital bathroom scales actually perform calibration tests between uses. Before the user even steps on the platform, the scale establishes a true zero reading. Many scales also delay measuring for a few moments to ensure the user has settled on the scale. This helps provide a more accurate reading.
You should be able to see the results of a weigh-in clearly. Oversized digital displays provide fast and easy-to-read results from a distance. Some models even feature an optional audio reading as well. Several scales also utilize backlighting so you can see your results even if your room has low lighting. And if you use a smart scale that connects to a device, you can see your weight and other information right on your phone.
Most modern bathroom scales tend to have a minimalist design that's easy to stow away when not in use. They may use clear, tempered glass, metal or a plastic surface. And some models allow users to shift between units, such as pounds, kilograms or stones.
Manufacturers also keep safety in mind and tend to include non-slip materials wherever possible. Make sure to opt for a slip-resistant design, preferably supported by a set of rubberized feet. And keep an eye out for damp conditions if you're weighing before or after a shower, so you safely mount and dismount from the scale.
Most of the time, people simply step on their bathroom scale for a quick reading and step off. However, if you want more information, such as BMI or bone density, you might want to consider a scale that utilizes smart technology. You can usually find these scales at manufacturers like Apple Health or FitBit, and they often connect with an app to show you the full results of your weigh-in.
Best bathroom scales
Greater Goods Digital Weight Bathroom Scale:Available at Amazon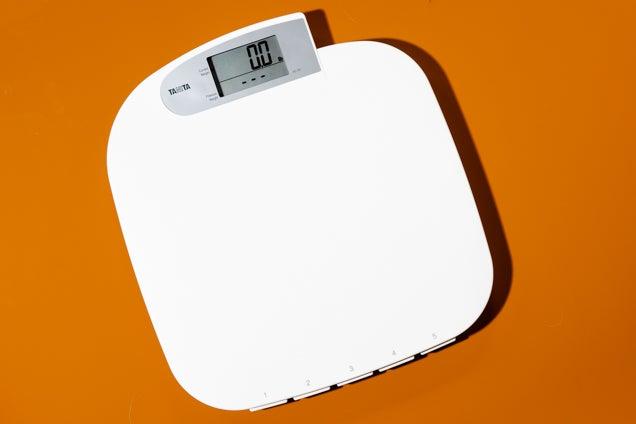 This affordable digital scale has a 400-pound capacity and automatically recalibrates after every use. The back-lit, oversized display makes for easy reading. Consumers who seek a minimalist scale that stores away easily should consider this model.
BalanceFrom Digital Body Weight Bathroom Scale:Available at Amazon
This scale eliminates the need to tap or activate the scale before mounting. You can read the large backlit display at any distance or angle, and the four sensors deliver an accurate reading every time. It features some extra safety components, such as rounded corners and tempered glass.
Taylor Precision Products Digital Bathroom Scale:Available at Amazon and Wayfair
Powered by a durable lithium battery, the Taylor Precision digital scale has a stylish chrome and glass design that blends well with any bathroom. The oversized display has an automatic on/off feature to conserve battery life.
RENPHO Digital Bathroom Wireless Weight Scale:Available at Amazon
The best feature of this smart scale is it's compatible with several fitness apps, such as FitBit and Google Fit. The scale only displays bodyweight; however, it transmits 12 other biometric readings to the app.
Etekcity Digital Body Weight Bathroom Scale:Available at Amazon
This digital bathroom scale from Etekcity is a great entry-level model that provides bodyweight information with a decent degree of accuracy. The rounded corners and high-capacity tempered glass make it safe for everyone to use. Easy to store and maintain.
Loftilla Bathroom Body Weight BMI Scale:Available at Amazon
This digital smart scale stores results on a downloadable fitness app. It's compatible with other health apps such as Apple Health and Fitbit. The oversized display shows body weight and BMI.
SmarTake Digital Body Bathroom Scale:Available at Amazon
This is one of the most affordable digital scales available while still providing quality results. It includes almost all of the same features as the more expensive models. It features a 400-pound capacity, rounded corners and a non-slip platform. You can select from three different measurement units in either pounds, stones or kilograms.
BEAUTURAL Digital Body Weight Bathroom Scale:Available at Amazon
Beaurural's digital bathroom scale features a minimalist, clear-glass design. It uses four accurate sensors and displays results within seconds. You can adjust the measurement to read in pounds, stones or kilograms. The scale also arrives with a free tape measure so you can note other areas of your body composition.
Advertisement
Michael Pollickis a writer for BestReviews. BestReviews is a product review company with a singular mission: to help simplify your purchasing decisions and save you time and money.
Advertisement
BestReviews spends thousands of hours researching, analyzing and testing products to recommend the best picks for most consumers. BestReviews and its newspaper partners may earn a commission if you purchase a product through one of our links.
Distributed by Tribune Content Agency, LLC.
Advertisement
Latest What to buy
Advertisement
Most Read
'The energy of migration has been very high.' What's behind the population dip in Chicago, other big U.S. cities?3h
Daily horoscope for March 25, 202212:00 AM
Questions remain as resentencing initiative championed by Kim Foxx is slow out of the gate in Cook County2h
Tags:
how to calibrate digital bathroom scales