After living through two years of a global health crisis, nothing seemed more natural than to have Abbott chairman and CEO Robert Ford take center stage at this year's Consumer Electronics Show (CES). Of course, it was necessary to scrape off the varnish of a keynote thought out to the word and orchestrated like a reality TV show to perceive the group's vision and advancements in telehealth technologies.
"Health tech is at an inflection point, and Covid-19 has powerfully underscored the importance of health and the growing value of the technologies that protect and advance it," said Ford in his introduction. "People can proactively manage their health, detect a disease earlier, and even prevent it from happening. This convergence of health and technology has the power to digitize, decentralize, and democratize health care to create a shared language between you and your doctor and put more control of your health in your hands."
Here are some of the innovations Abbott showcased at CES 2022 that aim to make telehealth more accessible and useful to patients.
Reducing Parkinson's tremors
For people living with movement disorders, such as Parkinson's disease, managing treatment is a huge challenge. Abbott has developed a neuromodulation therapy, which delivers low-intensity electrical impulses to the nerve structures to suppress tremors and help restore movement in the body. However, this therapy must be adapted to the evolution of the patient's condition. While in the past, this meant time-consuming visits to the neurologist, Ford said that Abbott's newly launched NeuroSphere Virtual Clinic makes it possible "to optimize your implants remotely to deliver the right doses of electrical impulses to you, wherever you are."
To support his point, Ford gave the floor to Dr. Fiona Gupta, director of the Movement Disorders Outreach Program at Mount Sinai Health System, in New York. Talking about the FDA-approved system, Gupta said it has more than 50,000 settings that can be adjusted and fine-tuned to make it truly personalized. Another advantage is her ability as a physician to see her patients at home "as long as they have Wi-Fi or cellular access." For instance, she illustrated, "They show me how they are playing the piano, how they interact with their pets, and how they navigate in their kitchen. This gives me the opportunity to personalize their deep-brain stimulation and help them continue to do the things they love to do."
Preventing heart failure
Historically, clinicians have focused on physiologic markers such as patient weight and blood pressure to detect worsening heart failure. Unfortunately, these markers appear late in the course of decompensation, leaving little time to respond before hospitalization is required. Remote monitoring is becoming increasingly important in the management of patients with chronic heart failure, and Abbott has developed the CardioMEMS HF system, a pressure sensor that remotely monitors changes in a patient's fluid status.
The CardioMEMS HF system provides pulmonary artery pressure monitoring using a sensor permanently implanted in the distal pulmonary artery via a safe right heart catheterization procedure. The detected changes are a surrogate measure for fluid retention in the lungs caused by worsening heart failure.
The sensor readings taken daily by the patient from home are transmitted wirelessly to a secure website for clinicians to access and review. Direct monitoring of pulmonary pressure not only alerts the clinician if a patient's heart failure is worsening, but it also allows him or her to intervene earlier by adjusting medications or making other treatment changes, often before the patient develops symptoms.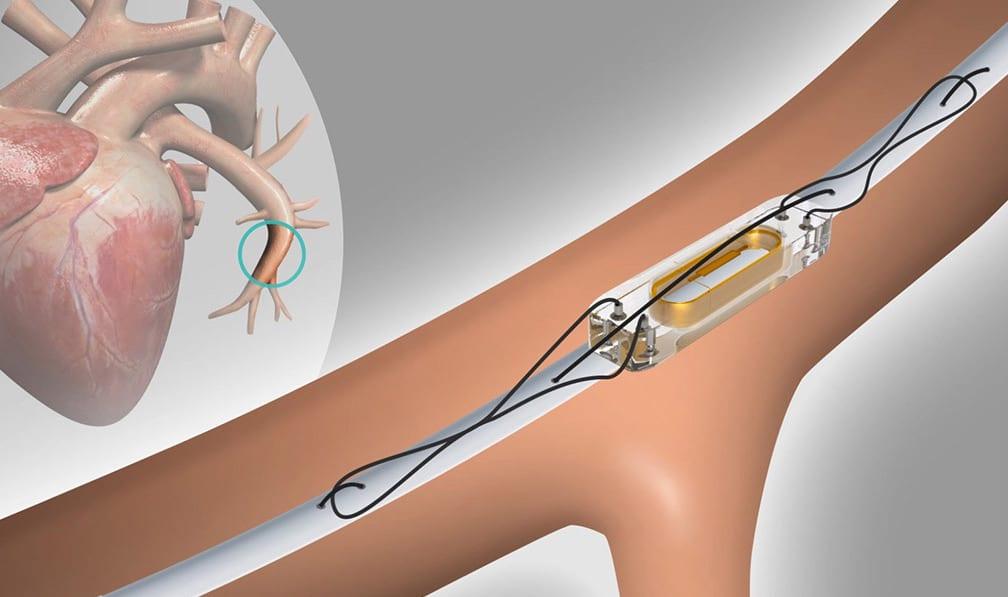 During his presentation, Ford invited Dr. Leslie Saxon, a professor of medicine at the Keck School of Medicine of the University of Southern California (USC) and executive director of the USC Center for Body Computing and USC Virtual Care Clinic, to share insights about her collaboration with Abbott.
"At USC, our research was the first to show that an implantable defibrillator to treat patients with heart failure, when connected to the internet, improves the longevity of people living with heart failure," said Saxon. "This continuous data — and it's key that it's continuous — provides the earliest warning of a serious event that can then be treated or mitigated before it happens."
The benefits are as much for the patient as for the cardiologist. "People can go on living their lives with ease and increased comfort, because they have these early warning systems looking out for them," said Saxon. Similarly, "health-care providers like myself — and this is really important — can focus their time more efficiently on people who actually need their support and [can] scale and offer their services to people anywhere in the world."
Talking more broadly about the development of ever more precise and personalized medicine, Saxon said, "Implantable wearable technology combined with the right software, meaning the right experience, allows for more data to be continuously collected. We can learn those deeper, more personalized insights into the transition from health to disease. Our research is focused on using connected technologies to provide life care."
Monitoring glucose
Diabetes is a serious global health issue. The latest figures from the International Diabetes Federation show that 463 million people worldwide — one out of every 11 adults — are living with the disease,and this number is predicted to rise to 578 million by 2030 and to 700 million by 2045.
Abbott has developed the FreeStyle Libre 3 system to help Type 1 diabetes patients discreetly check their glucose levels day and night via a glucose sensor about the size of two stacked U.S. pennies without having to fingerstick. Worn on the back of their upper arm, the biowearable sensor measures every minute interstitial fluid glucose via a thin and flexible filament placed about 5 mm under the skin. Reports are then sent to the dedicated smartphone app.
"The FreeStyle Libre technology gives consumers more data and more insights conveniently and in a way that's easily understood," said Ford. "Checking your glucose is as easy as checking the weather."
Abbott received the CE mark for its FreeStyle Libre 3 system in 2020.
Tracking biomarkers
To say that Ford saved the best for last, nothing is sure yet. Abbott is currently developing a new category of consumer biowearables that will collect a broader range of biological data to help users optimize their exercise and nutrition routine and improve their general health. "What if we could decode the messages our body is trying to send us as a way to maintain and improve health?" Abbott asked. Dubbed Lingo, the suite of biosensors aims to help users monitor biomarkers such as glucose, ketones, lactate, and alcohol levels. Like FreeStyle Libre, it is worn on the back of the upper arm for 14 days, and a tiny, probe-like filament penetrates the skin and collects data. Lingo is wirelessly connected to the user's smartphone.
More specifically, Ford said the Lingo ketone sensor is being designed to provide insights on dieting, weight loss, and real-time feedback. The lactic sensor will be designed to measure the buildup of lactic acid during exercise. It can be used as an indicator for athletic performance but also, even more importantly, for recovery. The glucose sensor tracks glucose levels and helps understand how they affect energy levels. Finally, the Lingo alcohol sensor is going to "help you make some better decisions."
"Monitoring these biomarkers for the first time will offer unprecedented understanding of human metabolism that can improve decisions around general health, nutrition, and even athletic performance," said Ford. "Your body is constantly talking to you, and now, it's time to listen."
Abbott's Lingo biowearables are not intended for medical use, but they will need to go through the appropriate regulatory process.
This article was published in the March Edition of EE Times Europe Magazine whose main feature is on telemedicine.
EE Times Europe Magazine – March 2022
Sign up for our weekly Newsletter
---
Anne-Françoise Pelé
Anne-Françoise Pelé is editor-in-chief of EE Times Europe.
Tags: ICs/Chips, Medical, MEMS & Sensors, Wireless
Continue Reading
Previous Analog Devices Plans to Invest €100m in IrelandNext Wanted: More Women in Quantum Technologies
Tags:
what does ee mean on blood pressure monitor