G-Shock's GM2100 series combines the company's popular octagonal case design, with a new premium metal-clad construction.
Following the success of the original resin-cased GA2100 Series, which debuted in 2019 — affectionately dubbed the "CasiOak" by the watch community — G-Shock aptly created upscale metallic versions to build on the popular octagonal case design. In August 2021, Casio released the 44 mm metal-covered GM2100 Series, targeted towards men, alongside the 40 mm GMS2100, marketed to women. In spite of the official gender designations, both watches can actually be a good fit for men or women, depending on wrist size and preference.
For this review, Casio provided Professional Watches with two loaner samples of the men's 44 mm GM2100 watch — one in silver and black (Ref. GM2100-1A), and the other in navy blue (Ref. GM2100N-2A). There are also two other references within the GM2100 series — a gray case option with an olive green dial and strap (Ref. GM2100B-3A) and a gray case with a red dial and a black strap (Ref. GM2100B-4A).
Most notably, the new GM2100 series bezel features a robust stainless steel construction and a circular brushed finish (Casio refers to this as a hairline finish). The sides of the bezel, the case middle, and the lugs are all part of the monoblock forged bezel construction (on top of shock-absorbing glass fiber reinforced resin inner case for maximum shock resistance) and have been given a mirrored finish that contrasts with the matte surface of the bezel. This combination of reflective and matte surfaces, really makes the watch pop in photos — and most importantly on the wrist.
Further underscoring the glossy case is a vertical brushed (hairline) finish on each dial, created using a vapor deposition process, that also enhances the upscale aesthetic. The large lance-shaped, analog hour and minute hands, coupled with prominent angled, ridged indices, display the time legibly at a glance. To save battery power, there's no second hand (seconds are displayed digitally in timekeeping and world time modes via the two-line digital display), and the minute hand advances once every 20-seconds, or three times per minute as opposed to a slow sweeping motion like with a mechanical watch, or constant ticking that is common with most quartz. The two analog hands have been given luminous paint, but as with some other G-Shocks, the indices have not been given any lume, which is a bit counter-intuitive considering that to read the time precisely, the hands and indices should both be luminous. However, a double LED light, that can be activated on-demand, mitigates this issue, if you have a free hand to activate the push-button.
One of the items that presumably keeps the cost of the CasiOak so affordable is the movement module 5611, which uses highly accurate quartz technology (accurate to -/+ 15 seconds per month), however, it's not one of Casio's atomic, GPS, or Bluetooth modules — which adjust automatically, and are precise down to the second. The watch is powered by battery two SR726W batteries, with an estimated life of 3 years on regular use and conditions. Again, very capable and longer-lasting than a mechanical timepiece, which on average are good for 3 days, not 3 years. That said, when I've spoken to consumers about G-Shock, one of the first two questions that tend to arise are: Is it solar, and is it Bluetooth connected? The answer unfortunately is no to both, although we would not be surprised to see that functionality added in the next year or two, albeit at a higher price.
While the module is not Bluetooth connected or solar-powered, there's a certain level of reliability that can be appreciated by a watch you set yourself, and one that's powered by replaceable batteries. Not to mention, this allows Casio to offer a solid dial — versus a semi-transparent dial that's required for sunlight to enter on a solar-powered watch —with the attractive vertical brushed vapor finish. There are almost always trade-offs, and this is a good one considering the dial, to me, is one of the primary highlights of this watch.
As with all G-Shock watches, the movement and dial are protected from extreme shocks and can survive at a depth rating of 200 meters underwater. The flat glass protecting the dial is made of mineral crystal, which at this price point, is a given, and like many other G-Shocks, it's armored, meaning it sits below the plane of the bezel, which minimizes the chance that anything will impact it. The caseback is made of stainless steel and is secured via four screws.
Other standard accouterments include the double LED light, 5 Alarms, a 1/100th stopwatch (1-hour), a countdown timer (24-hour), a full auto-calendar, and a World Time function (31 timezones, 48 Cities + UTC). Using the two-line digital display, you can toggle between Timekeeping mode, World Time mode, Alarm mode, Countdown Timer mode, and Stopwatch mode to control most of the aforementioned functions. The day of the week is displayed in a separate analog subdial on the left side of the dial, and the date and month can be indicated in the digital displays. Setting the time, adjusting the modes, and so forth, are handled manually — like on classic G-Shocks — using the four push-buttons.
On the wrist, I expected the 44 mm diameter to be cumbersome and a bit too large for my wrist and personal taste, but in reality, the case feels more like a 40 or 42 mm, primarily because the hinges on the left and right sides of the case add to the diameter but don't make the watch wear as large as the dimensions suggest. I've yet to try on the smaller GMS2100 Series, which measures 40 mm in diameter, but I imagine it will have similar real-life wearability, which is to say it will likely wear small and comfortably as well — which is a good thing. At 11.8 mm, the case is incredibly thin and greatly enhances the incredible ergonomics. The lug-to-lug at 48.5 mm is also a key factor in why this watch wears so well (Casio's official specifications state that it's 49.3 lug-to-lug).
Verdict
Quite simply, Casio's taken their entry-level uber-popular resin-cased GA2100 series and elevated the materials and finishes, while staying within the highly accessible price range of $200 to $220.
In my experience, the brushed surface of the bezel holds up well, even with significant impacts. However, I'm not sure how durable the polished portion of the case will be, although on the sample units the only noticeable scratches were actually on the bezel, which you may notice in some of the photos in this review.
Personally, I tend to go with traditional colors and usually prefer black or silver dials, and with the GM2100-1A in silver and black, you can't go wrong with this classic colorway. But the navy blue GM2100N-2A has a richness to it that's hard to top. The olive and red dial models, with dark gray contrasting cases, which I did not test, also look quite sharp.
The urethane (resin) strap is firm, in a way you can tell will be durable, although I tend to like something a bit softer, like on the straps included with comparatively price G-Lide watches, even if it needs to be replaced more frequently. That said, the tapered design, chequered pattern, and single keeper configuration, not to mention the quick release levers, are all positives in my opinion.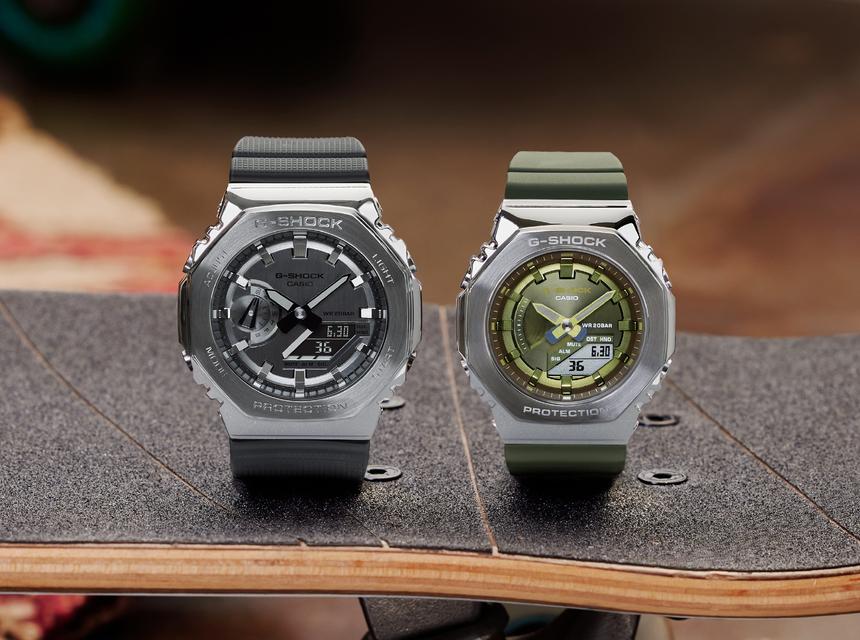 With the GM2100 series, you get the hype of the CasiOak — which is named for its resemblance to watch designer Gerald Genta's famous octagonal Royal Oak design — now in a more durable and premium metal-clad version, and for a very reasonable price.
The GM2100-1A retails for $200, while the GM2100N-2A retails for $220.
Learn more at G-Shock.com.
SPECIFICATIONS:
Casio G-Shock GM-2100 Metal Covered
Reference: GM-2100
Year: 2021
Total Weight: 71.5 grams
Case Diameter: 44 mm (including hinges)
Bezel Diameter: 41 mm to 41.5 mm
Case Thickness: 11.8 mm
Lug-to-Lug: 48.5 mm
Lug Width: 25 mm to 20 mm (resin strap with pin buckle)
Crown Diameter: No crown (four push-buttons)
Glass: Mineral Glass, armored (sits below the plane of the bezel)
Movement: Module 5611
Depth Rating: 200 meters
Strap: Resin (urethane) material with imprinted chequered surface and a flared, steel pin buckle
Tags:
how to connect g shock watch to phone