The Mini 2 fitness-tracking watch from FourFit is marketed at children aged 10+ and its strap does go down small enough for younger ones. But it's also large enough for an adult to wear as a budget device. And while it's cheap, it's also cheerful. You get a lot for your money, but it lacks the simplicity and ease of use that kids seek.
The industrial design is clever. It looks a lot like a Fitbit, with a rectangular body the same width as the wristband, for a sleek look. And the band (in black, aqua, red, purple or blue) pulls off the body of the activity tracker. When you pull the top part of the band off, it reveals a built-in connector than you can plug in to a standard USB socket for charging.
This isn't child's play, though. It's tough wiggling the strap off (my children, aged 11 and 13, found it difficult) plus you're left with a plastic stub to poke into a USB socket rather than a whole USB plug. It's therefore easy to put it in the wrong way up or, in the case of youngsters, it's possible to ram it into the socket repeatedly and frustratedly until something breaks.
That said, the built-in USB was my children's favourite feature because cables are annoying. They also thought being able to find out their heart rate at any time was exciting. It might even incentivise them to exercise more, to raise it as high as possible. We recommend a Joe Wicks session if yours really want to go for it.
Conversely, the built-in blood pressure monitor and pulse oximeter (for measuring oxygen saturation in the blood) deliver stats that only an adult would care about and not even all adults.
The watch itself is comfortable and the colour display is attractive. We liked the rainbow of colours on the default watch face. Just below it is a small, touch-sensitive area that you tap to cycle between functions. This is simple but works OK.
More of a let-down, for the intended audience, is the app. Child-friendly apps is where the big brands come into their own, with cartoon characters encouraging them to exercise and awarding regular badges for their activity. The apps are simple, fun and safe.
The FourFit, however, sends you to the app store (iOS and Android) to download Lefun Health, a free app that's comprehensive and not bad for adults but it's certainly not aimed at small people.
One of the Mini 2's selling points though is that it doesn't need to constantly sync via Bluetooth to work, and smartphone alerts to messages are strictly optional and easy to turn off in the app. So a good way of doing things is to give your child the watch and have it sync with your phone once a day. They can see their step count and more on the watch screen, then you see it for yourself and can give your own praise and rewards.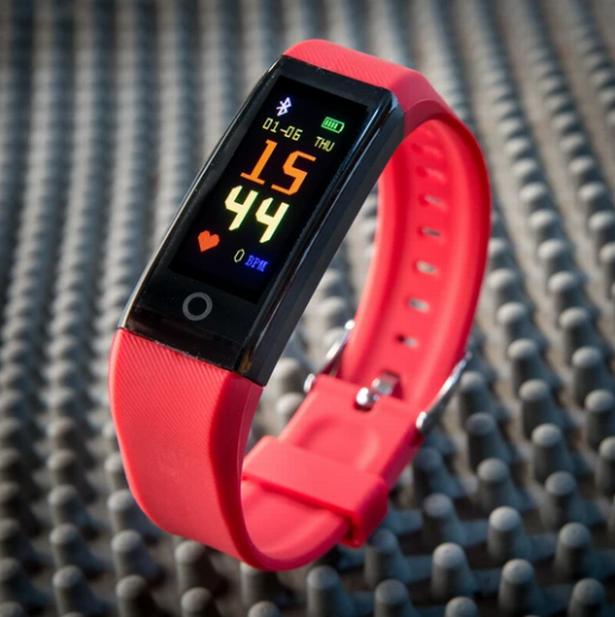 At the time of writing, the Mini 2 was available online half-price and it's very hard to criticise as a budget activity tracker for adults at this price. But if you want to motivate small people then it's debatable. If they have a phone or tablet and would enjoy the companion app, it might be worth spending more to get one that will truly incentivise them – see below. For example, thanks to a Disney collaboration, the Garmin app is literally, as well as figuratively, Mickey Mouse.
That said, if they're going to lose their watch anyway then (spending) less is more.
£40 www.four.fit https://www.four.fit/products/fourfit-mini-2-kids-fitness-tracker-activity-watch-for-children
Fitbit Ace 2
Pricier and simplified for kids (age 6+) with cute icons and an app, including parental controls, that motivates them with badges and trophies. It tracks activity and sleep but doesn't measure heart rate, blood pressure, or pulse ox.
£69.99 fitbit.com
Garmin Vivofit Jr 2
The appeal of this activity tracker is the styling, with Disney, Star Wars and Marvel options to choose from. The theme continues in the app: children's activity unlocks on-screen entertainment. Your parent app lets you see their stats and even set chores and virtual rewards. Fits age 6+.
£79.99 buy.garmin.com
Nuband Flash HR
Not specifically aimed at children but the price makes this another strong contender for budget activity tracker. What's more, it includes heart rate and blood pressure monitoring, as well as fitness and sleep tracking.
Tags:
how do i connect my lefun watch to my phone