If you're not crazy about the current watch face on your Apple Watch, you can easily switch to one you prefer. Plus, many of the device's built-in faces can also be customized to give them a different color or style, and equip them with specific features called complications.
Each new version of Apple's watchOS introduces new faces. In 2021, watchOS 8 added World Time and Portraits for all supported watches, while the Apple Watch Series 7 also got new Contour and Modular Duo faces. You can work with these faces and those from previous updates to make the watch feel more personalized. Here's how to switch from one watch face to another and tweak them to give each face a personal touch.
---
Update watchOS
You can change out and customize your watch faces with any version of watchOS, but you need watchOS 8 or higher (and iOS 15 or higher on your iPhone) to take advantage of the newest additions. To make sure you have the latest watchOS version, open the Watch app on your iPhone and tap General > Software Update. If the app says your software is up to date, you're good to go. If not, your phone will download and apply the latest update to your watch.
---
Switch Watch Faces
To change your watch face, swipe left or right on your present face. You'll cycle through all the watch faces you've already added. Stop when you see a face you want to sport.
You may want to switch faces throughout the day based on where you are and what you're doing. For instance, you may like to sport the California watch face when you're working, jump to the Infograph watch to see the temperature and other info when you're outdoors, and then segue to the Modular face at the end of the day to check your heart rate and access the Breathe app.
---
Add New Watch Faces
If you're running watchOS 8 but haven't yet added the new watch faces, here's how to snag them. In the Watch app on your iPhone, tap the Face Gallery icon at the bottom of the screen. The top row shows the new faces, including World Time and Portraits (and Contour and Modular Duo if have the Series 7). Note that you can't add the Portrait face until you select one or more Portrait photos to create it.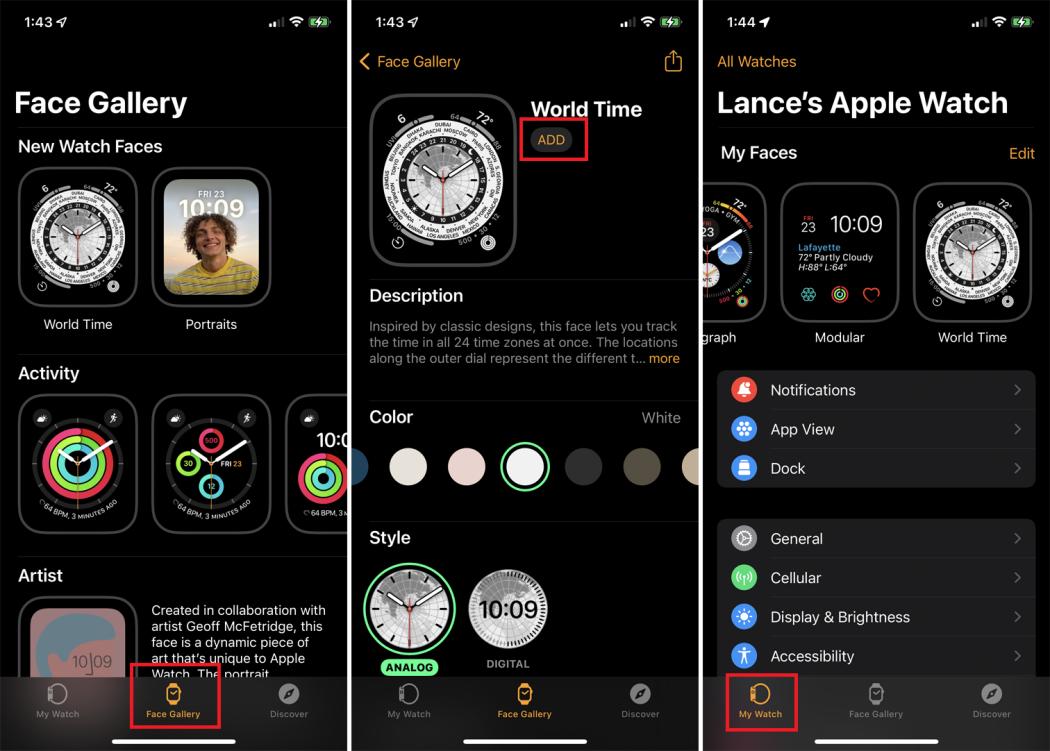 Tap the face you want to install and tap the Add button. When you're done, tap the My Watch icon at the bottom of the screen. Swipe to the end of the list of watch faces and you'll see the new faces you just added.
Starting with watchOS 7, Apple opened the watch face landscape to third parties that can create and sell their own faces. Several Apple Watch apps offer galleries of different faces that you can add. Most of these require a one-time payment or subscription, but there are a few free ones.
To check these out, open the App Store either on your iPhone or directly on your watch. Search for "watch faces" and download any app that interests you. You can then select a specific face and add it to your watch. Online communities, such as Facer and Watchfacely, have popped up where people can create, upload, and download their own customized watch faces.
---
Organize Watch Faces
You may have to cycle through all the watch faces in the My Faces section to edit or change one, which can be time-consuming if you've added a lot of faces. To speed up the process, remove any faces you don't want.
Under the My Watch section of the iPhone Watch app, tap the Edit button next to My Faces. Find a watch face you wish to remove, tap the minus (-) sign next to it, and tap Remove.
You can also move the order of the faces to make your favorites more accessible. Hold down the hamburger icon next to a face you want to move, then drag it up or down in the list to change its location. Tap Done when you're finished to save the changes. The next time you swipe between different watch faces, you will now see them all in the order in which you sorted them.
---
Edit Your Watch Face
Maybe you like the layout of a certain watch face but don't care for the color or style. Many watch faces let you tweak certain elements to allow for customization.
If you wish to add and tweak a face at the same time, tap Face Gallery, then select a watch face, such as Kaleidoscope, and you'll be able to change several details before you add it. Pick a color and style, and each change will be reflected in the preview face at the top of the screen.
When you're done, tap the Add button. Then go to the My Watch section and swipe to the right to see the new face you added with the color and style you picked. You can also tweak watch faces after they have been added to your watch. At the My Watch section, select one of the faces to make changes to it.
Complications are elements that can be added or modified to customize a watch face. Many faces let you add three or more complications in various spots of the screen. Changing these details comes in handy when you need certain elements not otherwise offered by your favorite watch face.
You can add or tweak complications for date, heart rate, music, podcasts, reminders, weather, workout, and a variety of other features and apps. With watchOS 7 and 8, you can even add customizations from third-party apps. If you're at the gym, for example, and need access to the complications for heart rate and workout, you can add those to certain faces.
In the Watch app, tap the face you want to tweak. Tap the location of the first complication you want to change and switch it to Heart Rate. Tap the second complication and set it to Workout. When done, tap the My Watch link in the upper left and the watch face will now display the complications you chose. Check that face on your Apple Watch and you'll see the new complications appear.
---
Create Watch Faces With Photos
You can create a watch face from your own photos. Select an entire album of photos, and each time you tap on your watch, the next photo in that album appears. In the My Watch section, tap Photos. Your Favorites album is the default, but you can change that.
With the option for Synced Album, any photo album you're already syncing with your iPhone will automatically be used for the watch face. The option for Photos lets you manually select photos to display. The Dynamic option uses new photos you take and those from recent memories. Select and customize your preferred option.
As an alternative, swipe down the My Watch section and tap Photos. From here, you can create a photo album that syncs to your watch. You can either mirror an existing album from your iPhone or create a custom album for your watch. You can also set a limit to the number of photos in the album at 25, 100, 250, or 500.
---
Create a Portrait Watch Face
If you're running watchOS 8 or higher on your watch and have an iPhone that supports Portrait mode in the Camera app, you can turn your Portrait mode photos into watch faces with 3D effects. After snapping some portrait photos on your phone, go to the Face Gallery in the Watch app and tap the Portraits watch face. Tap Choose Photos, then select the portrait photos you wish to add (up to 24), and tap Add.
At the Portraits screen, tap Add to add the new watch face. Now when you view the face on your watch, the photos should separate foreground from the background and give a 3D effect when you move your arm. If you turn the Digital Crown, you can zoom in and out of each photo.
---
Share Watch Faces
You can share a watch face with others directly from your watch, allowing them to add that face to their watch. Just press down on the watch face you want to share and then tap the Share icon. Select the contact, compose your message, and then tap Send to send the face as a text.
Tags:
how to change apple watch to digital clock